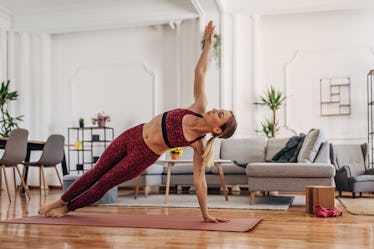 Try This Yoga Flow Sequence For New Year's Day And A Fresh Start To 2022
Find your inner peace and slay the day.
South_agency/E+/Getty Images
After a long holiday season, I'm ready to ring in the new year with a little less snacking and a lot more movement. If you're also feeling sluggish from the holidays, one of the best ways to slough off the stress and get refreshed is by hitting the mat for a New Year's Day yoga flow sequence. It's short, simple, and you can do it right from your home.
What's especially great about yoga is that you can modify anything to make it easier if you're a beginner, or more challenging if you've been practicing for awhile. It doesn't have to be complicated either; as long as you commit to rolling out your mat on New Year's Day and trying out a yoga flow, you're already on your way to better health and wellness in 2022. In fact, this may be the perfect way to begin a brand new yoga practice that'll carry you all the way until next New Year's Day.
Just like a new year full of exciting opportunities, this yoga flow sequence for New Year's Day is full of familiar poses to help you get started, as well as a balancing pose challenge to help you stay steady, even if 2022 gets a little rocky. Finally, we'll cap it all off with a soothing spinal twist and savasana to rejuvenate your mind and body so you're ready to bring your all to the new year. Ready? Let's get started.