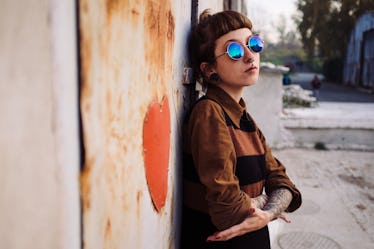 Experts Reveal Why Your Period Is The Actual Worst Some Months And Not Others
Lack of sleep could be a factor.
Some people's periods arrive like clockwork each month, with little to no surprises in the agonizing symptoms department. Others are stuck navigating a scramble of symptoms every month, as if Mother Nature were picking from a hat and dealing out mood swings, cramps, and migraines at random. But the truth is, nothing that goes on in the human body is random. If you're someone who never really knows what to expect during that special time of the month, here's a bit of comfort: It's not your imagination — there are some real reasons why your period is worse some months than others. It has a lot to do with your lifestyle choices, and everything to do with how your hormones respond to them.
According to Sandy Knauf, a family nurse practitioner, PMS occurs when estrogen and progesterone are at their peak just before you bleed. While estrogen can trigger the onset of bloating, changes in sleep pattern, headaches, mood swings, and even cysts on the breasts, progesterone is responsible for hormonal breakouts, cravings, irritability, fatigue, and breast tenderness.
Based on this information alone, you could write off your yo-yoing PMS as estrogen and progesterone just running amok whenever they see fit. But your hormones only act out if they have a reason to do so. So why is your period worse — sometimes even more painful — some months, but pretty manageable the next? Here's what experts have to say about this kind of fluctuation:
Experts:
Sandy Knauf, family nurse practitioner
Dr. Jessica Shepherd, OBGYN and general women's health expert
Dr. Heather Bartos, MD, board-certified OBGYN
Maureen Whelihan, OBGYN
This article was originally published on