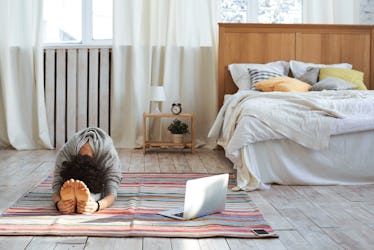 7 Yoga Poses To Avoid When You're On Your Period So You Don't Make Your PMS Worse
The idea of hitting up a yoga class during that time of the month is controversial AF. Some people say to skip the flow during your literal flow, while others say the movement and breathing will feel great for your bloated body. Whichever side you're on, doing yoga on your period has actually been shown to be great for PMS, so depending on how your body feels, a nice vinyasa class could be just the remedy you're looking for to ease your symptoms.
There are plenty of yoga poses you can do when you're on your period that improve circulation throughout your body, and therefore decrease bloating. Plus, the entire meditative, mind-body experience of yoga is incredibly soothing for cramps, hormone-induced moodiness, and all of those intense cravings for anything and everything containing sugar.
As amazing as yoga can be for your period symptoms, though, there are a few asanas to take caution around when Aunt Flo comes to visit. Extreme postures like backbends, intense twists, and inversions are all poses that are best saved for another time when you're menstruating.
As a yoga teacher, I always make sure to mention these precautionary measures to my students in our classes. Ultimately, it's entirely up to the yogi herself as to whether or not she wants to opt out of certain movements. But if you're curious about which poses may not be best to do during your period, here's a breakdown of the ones you should either modify, or consider avoiding entirely during that time of the month.