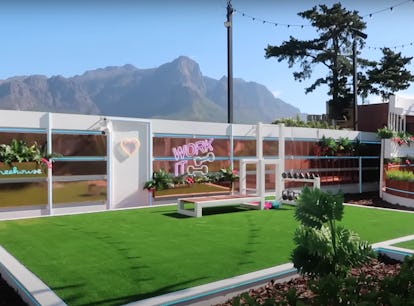 Where Is Winter Love Island 2023 Filmed? The New Villa Is Luxe
A YouTuber called it "the best one yet."
According to ITV, "2023 is officially the year of Love," thanks to two different versions of Love Island premiering this year. Love Island's winter series, which was filmed in Cape Town, dropped on Jan. 16 with a whole new cast looking for love, and well as a dreamy new villa. The previous Love Island winter series was filmed in South Africa as well, but this time around, the winter Love Island 2023 filming location is noticeably bigger and better.
YouTuber Anastasia Kingsnorth got to tour the new Love Island villa before the season premiere, and shared some behind-the-scenes secrets that fans don't necessarily get to see on TV. ITV flew Kingsnorth out to Cape Town to Franschhoek Wine Valley, which is where 2023's Love Island villa is located. And while the destination country is the same, the villa itself is completely different from its predecessor. In fact, Kingsnorth says that it's more like a "resort" and calls it "the best one yet." The villa — or rather, resort — also boasts some new features for the islanders to take advantage of during their time on the show, hinting at many more opportunities for both drama and connection during the season.
Where Is Winter Love Island's 2023 Villa?
For one, the super secluded South African villa is notably off the grid. In the past, production reportedly had to deal with some people sneaking into the Love Island villa, so safety was a major concern when picking out a location this time around. To make it even harder for intruders to find, Love Island chose Franschhoek Wine Valley's "millionaire's row" in South Africa this time around. The bougie area is not only "protected," but also offers some stunning views of mountains and palm trees, making it perfect for islanders wanting to lounge by the pool. From Kingsnorth's YouTube tour of the 2023 Love Island villa, you can see the 360-degree mountain views everywhere you look from the backyard and pool area. Even while sitting at the infamous Love Island fire pit, you can see the mountain peeking over the mansion.
In Franschhoek Wine Valley, it's rumored that production reportedly chose Ludus Magnus' Manor House for the Love Island villa, which is available for you to stay in as well. While not confirmed, the Manor House does look like the Love Island villa minus the renovations production made to include neon signs and colorful decor. Whether it is or isn't the official Love Island villa, Manor House does have the same gorgeous pool and stunning views. Rates aren't listed on their site, so in order to stay here during your trip, you'll need to book by inquiring and sending a message.
If you can't stay at the actual Love Island villa, there are plenty of other accommodation options, from bed and breakfasts to luxe hotels. For the full Love Island experience, you can find a villa or home that has its own massive pool in the backyard.
What's New In The Winter Love Island 2023 Villa?
Since both the villa and exact filming location are new this season of Love Island, a lot of it feels totally unique. There are the Love Island staples, like the dressing room, bedroom, and backyard area, but Kingsnorth points out in her tour that things just feel bigger and better overall. For instance, the dressing room has beauty products everywhere and feels larger than before with additional vanities for the contestants to use.
The bedroom also "feels a lot bigger," and Kingsnorth noticed that the cameras were a little more hidden than before. This could mean that it'll be harder for islanders to remember they're on camera, and in turn, spill more secrets. Meanwhile, in the backyard, the pool is as massive as the new villa and features a stage at the center — which will be great for challenges on the show. There's also a brand-new treehouse area for contestants to lounge around in, which provides some truly breathtaking views of those mountains in the distance.
Finally, Kingsnorth shares a first look at the Hideaway on Love Island, where couples can get some alone time on the show. New to the Hideaway this season is a "playtime" closet that will be filled with "things" for couples to use during the time in the villa. Overall, this winter Love Island villa is luxe, large, and sure to be the perfect backdrop to a really entertaining season.