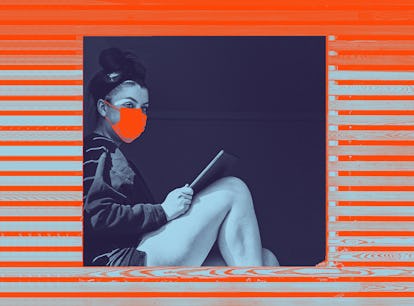 10 Women And Nonbinary People Detail What Getting Diagnosed With ADHD Amid The Pandemic Meant To Them
Justin Paget/Getty Images
As stay-at-home orders and school and business closures gripped the world in early 2020, the mass disruption and social isolation of COVID-19 laid bare previously overlooked mental health symptoms for many young people. Some felt no external motivation to stay organized due to the complete loss of routine and extended solitude. Others found it nearly impossible to work or keep their grades up because of the switch to a remote setting. For many — particularly Gen Z and millennial women and nonbinary people — getting an ADHD diagnosis amid the pandemic helped explain why they were struggling and created a path forward.
Attention-deficit/hyperactivity disorder, better known as ADHD, is a neurological disorder that has three main types: predominantly inattentive (formerly known as attention deficit disorder or ADD), predominantly hyperactive-impulsive, and combined, according to the Centers for Disease Control and Prevention (CDC). Since the start of the pandemic, more and more people with ADHD — or those who thought they could have the disorder — have taken self-assessments, joined virtual ADHD communities, sought consultations with ADHD coaches and specialists, and inquired about medication through telehealth or in-person interactions. According to Children and Adults with Attention-Deficit/Hyperactivity Disorder (CHADD), calls to its helpline have increased by 62% since the introduction of the novel coronavirus. Though children and adolescent boys saw the largest spike in diagnoses this past year, that increased awareness of ADHD meant many young women and nonbinary people realized their symptoms could potentially be explained, too. But the road to an ADHD diagnosis for adult women is often longer and fraught with doubt and misconceptions.
In part due to gender bias and the legacy of outdated criteria, ADHD in girls and women remains under-researched, underdiagnosed, and overlooked. According to CHADD, throughout childhood, teachers are more likely to spot hyperactivity in boys, while girls are more likely to present the inattentive type and overcompensate for symptoms. Though research on exactly why these gender differences exist is lacking, societal expectations may shape how girls internalize and mask symptoms. These factors contribute to medical professionals often mistaking ADHD symptoms in women for depression or anxiety, which could lead to more issues for those living with the disorder, such as lower self-esteem; feeling "lazy," "worthless," or "stupid"; and/or constantly feeling overwhelmed at school or work. When ADHD is left untreated, some women are even forced to postpone college and give up on certain career paths, further isolating them as they navigate an already alienating experience.
Elite Daily spoke with 10 such Gen Z and millennial women and nonbinary people who were diagnosed with ADHD after the pandemic began. Some only recognized their own ADHD through social media posts or after years of therapy for other conditions. Here, they detail how receiving a diagnosis and treatment brought relief, grief, joy, anger, as well as a new understanding of who they are and what they can accomplish.
These interviews have been edited for length and clarity.