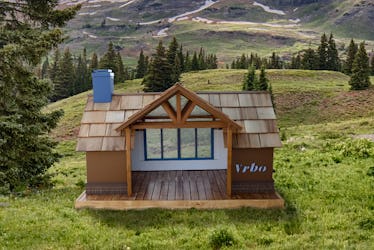 These Customized Doghouses From Vrbo Are Just The Digs Your Fur Friend Needs
The 'Gram-worthy homes feature balconies, swimming pools, and succulent gardens.
Courtesy of Vrbo
You may know Vrbo as a go-to resource to book amazing vacation homes for your next adventure, but just in time for the holiday season, they're offering something furry special for your pet at home. On Dec. 9, you'll be able to snag one of these customized Vrbo doghouses for your best friend. Now, these aren't just any regular doghouses. These Vrbo doghouses were designed for any four-legged friend to live luxuriously, like you would in your own Vrbo vacation home.
At first glance, you'll be wishing you could buy one of these Vrbo doghouses for yourself. That's how glamorous they are. With five different home designs, you can really choose a house that fits your pup's vibes. There's a beach cottage for your dog who loves to spend their summer days by the shore playing catch, and a mid-century modern bungalow for any pup who loves to nap in style.
Each home will be available for $100 on Vrbo at 12 p.m. CT on Dec. 9. However, these 'Gram-worthy doghouses will only be available on a first come, first served basis. So, you better set an alarm on your phone now so you don't miss out on getting one. If you're ready to spoil your dog with the greatest gift ever, browse your options now so you're able to "book" the right customized Vrbo doghouse ASAP.