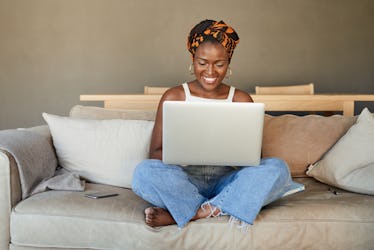 These Virtual Super Bowl Party Ideas Are Total Touchdowns
It's time to get your game plan together.
LaylaBird/E+/Getty Images
It's time to think about the most highly anticipated football event of the season: your Super Bowl party. No matter what team you're rooting for, celebrating Super Bowl Sunday consists of quality time with your squad and, of course, great food. Super Bowl 2022 is no exception, and these virtual Super Bowl party ideas will make a touchdown with your friends as you watch the Los Angeles Rams face off against the Cincinnati Bengals on Feb. 13.
Even though a virtual Super Bowl party might be different from how you traditionally celebrate with your favorite people, it can still be a ton of fun. Just because you're hanging out on Zoom this year, that doesn't mean you can't have an amazing time together watching the big game and playing a few Super Bowl party games of your own.
Before putting on your game face, don't forget that food is one of the most important parts of Super Bowl Sunday. You and your crew can show off your appetizers via Zoom and vote on whose presentation is the best. After you've had enough pizza and wings, consider playing football-themed trivia or Bingo for some friendly competition. As long as you and your friends plan one or more of these virtual Super Bowl party ideas, you're sure to have a tailgatin' good time.
This article was originally published on