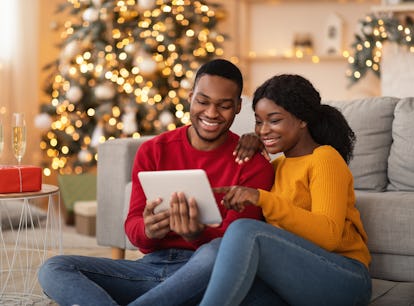 Check These Virtual Holiday Party Activities And Events Off Your Wish List
Get your cocktails and craft supplies ready.
Shutterstock
One of the best parts about the holidays is getting to spend time with people you love. If you can't see your fam or friends in person, a great way to connect with them is through a virtual holiday party experience or event for 2021. Luckily, there are tons of fun and festive activities to choose from.
Whether you're planning an end-of-year celebration with your coworkers or your extended family, you may find that you still want to snuggle up on your couch and call into a Zoom meeting this year. Or if you can't make it back home, a virtual holiday experience is the perfect way to gather everyone around the ol' laptop screen to hang out. In all seriousness, virtual experiences can help you and your loved ones or your coworkers bond over your love of history or trivia, or at the very least, have a few good laughs while you're crafting some cocktails. Plus, with tons of Airbnb virtual experiences and other online classes or events that are available, you'll love learning something new from the comfort of your couch.
So which will you choose? Will you and your crew go for something intellectual, like a virtual history tour or a festive game challenge? Or are you into cookies and crafting? With so many options, it can be tough to choose. Here are some well-reviewed virtual holiday experiences to help you narrow down your activities.