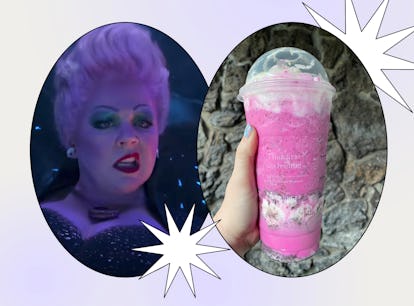 I Tried Starbucks' Secret Ursula Frappuccino That's Going Viral
The $9 sip was so stressful to order.
Walt Disney Studios/Rachel Chapman/Elite Daily
Now that The Little Mermaid has splashed into theaters, it's possible your FYP has found itself "under the sea." At least, that's where I am. During one of my TikTok scrolls and in between all the behind-the-scenes clips of Halle Bailey as Ariel, I came across an Ursula Frappuccino off Starbucks' secret drink menu inspired by Melissa McCarthy's character. This Little Mermaid-inspired drink recipe comes from barista and TikToker @jessnicole____, who shared just how you can order it yourself. So, of course, I had to try Starbucks' Ursula Frappuccino to see if it's as delicious as it is beautiful.
When you're getting a Starbucks recipe from an actual barista, you know it's going to be good. Most baristas who share their recipes on TikTok will also let you know how to order a secret menu sip, which really came in handy with the Ursula Frappuccino. This drink has about six customizations in order for it to look just like Ursula with mocha cookie tentacles on the bottom and a purple drink on top. Luckily, @jessnicole____ provides a script to follow at the end of her TikTok video, which is what I had to screenshot and take with me to the store. I normally like to order on the Starbucks app, but unfortunately, this Frappuccino requires one too many customizations to do at home. You have to go to a Starbucks and actually order from a barista.
To order an Ursula Frappuccino, ask for a venti Chocolate Cookie Crumble Crème Frappuccino with vanilla sweet cream as your milk. Substitute the mocha syrup for six pumps of the toasted vanilla syrup and three pumps of hazelnut. Replace the java chips that come with the Frappuccino and ask for three scoops of dragonfruit inclusion instead. This should be blended into the base and not added on top. This next part is where I really struggled the most ordering. Ask for the toppings — the mocha drizzle, cookie crumble topping, and whipped cream — to be added to the bottom of the cup, but you still want some whipped cream on top. Everything on the bottom is what makes the drink look like it has Ursula's tentacles, and the whipped cream on top is representative of her white hair.
Even with a script in hand, I still had a stressful time ordering the Ursula Frappuccino. I felt like a nuisance to the poor unfortunate soul taking my order. Luckily, just like with Ariel, there is a happy ending to this tale, and I got exactly what is supposed to go into an Ursula Frappuccino. While it looked like the sea witch in frozen Starbucks drink form, it's the taste that really matters.
Starbucks' Ursula Frappuccino Review
You may have thought to yourself while reading that order, "That's a lot of syrup." That's exactly what I thought as well. Nine shots of sugary syrup between the toasted vanilla and hazelnut is a lot, but for some reason it really worked with this drink. While it may be too sweet for an everyday sip, it's the perfect "treat yourself" dessert.
The tart dragonfruit really helped to break apart some of that sweetness as well. It almost tasted like a chocolate-covered cherry with the cookie crumble pieces. You definitely taste the toasted vanilla as well, which reminded me of a campfire s'more. So, if you're a fan of s'mores or chocolate covered fruit, this is the drink for you. It also doesn't hurt that it's totally Insta-worthy.
Of course, along with the stress of having to order this complicated drink, another downside is it's expensive. Sure, Ariel had to give up her voice to be a part of the human world, but you're going to have to pay around $9 to $10 for this Ursula potion. In The Little Mermaid, Ariel was willing to make a deal with Ursula and sacrifice it all for her legs. However, as tasty as the Ursula Frappuccino was, I'm going to have to stay right where I am with my $5 go-to order instead.