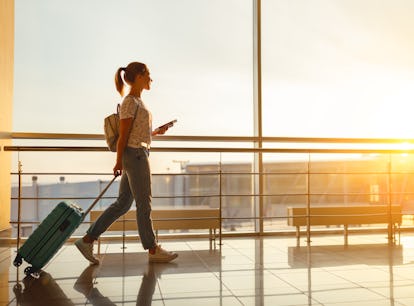 How To Enter United's "Jet Set & Reset"Sweepstakes For 1 Million Miles
Time to go to all the places.
Shutterstock
Get ready to check off all (or at least some) of you dream vacation destinations, without draining all the pennies from your bank account. United Airlines is giving you the opportunity to become a millionaire (in terms of flight miles). Whether you're a newbie traveler or a frequent flier, 1 million miles can take you far. To see how many places you can get on that many miles, you'll need to win them first. Here's how to enter United's Jet Set & Reset sweepstakes to win up to 1 million miles for flights on United Airlines.
There seems to be a "National Day" for everything. ICYDK, it's National Lose the Jet Lag Day was on Jan. 17. For the occasion, the airline's United Family of Cards from Chase and Timeshifter app announced the "Jet Set & Reset" pledge and sweepstakes, and 1 million miles are on the line. Plus, eight winners will also snag 500,000 miles.
If you've never flown by using miles before, this sweeps will make you want to start. The million miles is equivalent to approximately $10,000, per the sweepstakes rules. To put that into context, a roundtrip flight from New York City to Los Angeles for February 2023 costs around 17,800 miles if you're redeeming miles or $398 if you're purchasing it. In other words, 1 million miles could get you 56 roundtrips from NYC to LA. You'll also have the chance to win a subscription to Timeshifter, an app that aims to help you beat jet lag by "resynchronizing the circadian clock to the new time zone," according to Timeshifter. So, pack your bags and enter the sweepstakes for a chance to win big.
How To Enter The "Jet Set & Reset" Sweepstakes
The sweepstakes free to enter, but it's only open to United MileagePlus members. Thankfully, the loyalty program is free to join, so sign up here to make sure you're a member before you enter.
Once you're registered, you can enter on the sweepstakes website. All you'll need is your MileagePlus number, name, email address, and phone number. By entering, you're also promising to make the most of your travels with a pledge:
"I pledge to get the most out of my future travel by not letting jet lag slow me down. I will get the most out of every hour of sunlight and darkness. I will help my body adjust to its new surroundings, so I can feel great and have the most meaningful experience possible every time I travel across time zones."
I'm not sure how binding a virtual pledge is, but honestly, it's not a bad way to approach your travels. You'll also need to be a U.S. resident with a valid Tax Identification Number (TIN) or Social Security Number (SSN) and be at least 18 years old at the time of entry, per the rules. If you fulfill the eligibility requirements, enter online before the sweeps ends on Feb. 7 at 5 p.m. ET.
"Jet Set & Reset" Sweepstakes Prizes
The coveted grand prize is, of course, 1 million miles from United. There are two runner-up prizes also up for grabs. Included in all the prizes is a subscription to Timeshifter app to tackle your jet lag needs.
First Prize: One lucky winner will receive 1 million United MileagePlus miles, and a yearlong subscription to Timeshifter.
Second Prize: Eight winners will receive 500,000 United MileagePlus miles, and a yearlong subscription to Timeshifter.
Third Prize: 500 winners will receive a yearlong subscription to Timeshifter.
If you want even more miles, you can sign up for one of United Family of Cards from Chase which could get you up to 100,000 free bonus miles with the Infinite Card if you spend $5,000 on purchases in your first three months. For completely free miles, though, shoot your shot with the sweeps.