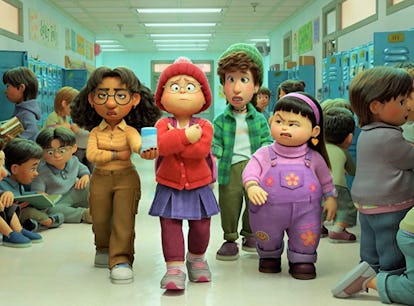 20 Turning Red Quotes About Friendship To Caption Your BFF Pics
Because you've always got each other's fluffy backs.
Pixar/IMDB
If you haven't seen Pixar's new animated film, Turning Red, it's time to get yourself over to Disney+ ASAP. Released on March 11 and available only on the streaming service, this heartwarming film touches on the messiness of growing up, and how much easier it is to become who you're meant to be with good friends by your side. If you're looking for an Instagram caption that'll show your BFFs how much you appreciate them, these Turning Red quotes will definitely do the trick.
In the movie, four preteen friends — Mei, Jin, Priya, and Abby — do anything for each other. That includes some normal things, like figuring out how to attend their favorite band's concert, and some not-so-normal things, like protecting Mei's secret red panda identity. No matter what happens to their crew, these four friends always stick together, through thick and thin, like you and your besties. Truly, friendship like that is so hard to come by, so why not tell your number ones that you love them every once in awhile with a sentimental Instagram post?
Any of these quotes about friendship from Turning Red will make an excellent caption to your Insta carousel of BFF photos. There are quotes that are genuinely vulnerable and sweet, and others that are a little silly, but either way, your friends will get the vibe you're going for. For even more impact, you could gather together to watch Turning Red before you post so they can truly understand just how much they mean to them. You've got their fluffy backs, no matter what.
"You're our girl, no matter what. Panda or no panda." — Priya
"We've got your fluffy back." — Miriam
"We're like a warm and fuzzy blanket." — Priya
"I know, it's a lot." — Mei
"We are 4 Townies, remember? Ride or die!" — Mei
"I'll give you anything! Money, my kidney, my soul." — Abby
"I miss how things were, but nothing stays the same forever." — Mei
"We've all got a messy, loud, weird part of ourselves hidden away. And a lot of us never let it out." — Mei
"People have all kinds of sides to them, and some of them are messy." — Jin
"Don't hold back. For anyone. The farther you go, the prouder I'll be." — Ming
"Go become women without me." — Mei
"Fight the power!" — Abby
"I'm finally figuring out who I am." — Mei
"Let's burn this place to the ground!" — Mei
"You are a beautiful, strong flower." — Ming
"You've got this. Just be the calm, mature adult you totally are. You got this." — Mei
"I'll guard it with my life." — Abby
"This will be a piece of cake and mostly painless." — Mr. Gao
"If we all can't go, then none of us should go." — Mei
"The panda is part of me, and you guys are, too." — Mei