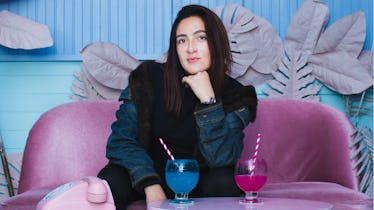 10 Really Cool Marble Products That'll Update Your Apartment Aesthetic
One of the perks of having an apartment to call your own is letting your personal style take the spotlight. You don't have to put your personal taste on the line and compromise with anyone else's opinions. You can go with a boho-chic feel, a more modern aesthetic, or a glam, elegant design. Whatever your style may be, if you're obsessed with all things marble, incorporating some marble decor into your apartment layout is totally necessary.
Having marble in your home can say a lot. It's timeless, chic, and can be paired with a variety of different color palettes. Marble is something that can also scream, "I've got a handle on this thing called adulthood, thank you very much." Even if you add just a couple marble pieces to your space, your aesthetic will be upgraded. Consider switching out your coffee table for one with a marble top, or start using cool marble holders for your kitchen utensils.
Marble decor will make your place look beyond Instagram-worthy, so you'll want to invite your friends over for a night in, complete with a charcuterie board, wine, and movies. No matter what you have planned, you'll know you have a home that's truly marble-lous.