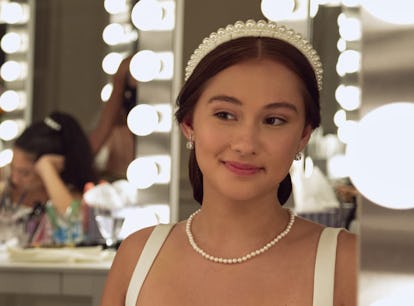 30 Belly Quotes From The Summer I Turned Pretty To Manifest A Magical Summer
Amazon Video
Isabel "Belly" Conklin believes in the possibilities of summer, that it's the only time of year when "everything good" and "everything magical" happens. In The Summer I Turned Pretty, Belly finds just that. Based on the YA book trilogy from Jenny Han, Prime Video's new series follows a story of first heartbreak and first love, taking readers on a roller coaster of emotions as Belly finds herself in a love triangle between two brothers. Along the way, Belly learns a lot about true friendship, crushes, and growing up. If you've already marathon-watched the series, you need these The Summer I Turned Pretty Belly quotes to caption your Instagram posts about summer and love.
Turning 16 doesn't always feel like a teenage dream, and Belly is soon faced with a heart-wrenching decision when she returns to Cousins Beach. Despite it all, she's still a dreamer who has faith in "a million promises of summer," even if her "dream life is complicated." Whether you're pining over a crush who has a "smirky mouth" or waiting in anticipation for your own life-changing vacation to unfold, these Belly quotes from The Summer I Turned Pretty will leave your "belly" warm and fuzzy.
Take these words of wisdom to manifest an infinite summer like Belly, but make your "summer wish" count. Belly's quotes from the series and book can even be used as an Instagram caption to pair with a sweet summer memory. If you're fantasizing about a wistful summer crush or reminiscing on a past fling, these 30 Belly quotes from The Summer I Turned Pretty are sure to tug at your heartstrings.
"For me, everything good, everything magical happens between the months of June and August."
"They've always seen me as a little kid, but this summer, it's different."
"It was a summer I would never, ever forget. It was the summer everything began. It was the summer I turned pretty. Because for the first time, I felt it. Pretty, I mean."
"I could survive for months, years, on a crush."
"Smirky mouths make you want to kiss them, to smooth them out and kiss the smirkiness away."
"It occurred to me that I was going to have to make the most of this summer, really make it count, in case there wasn't another one quite like it. I was getting older too. Things couldn't stay the same forever."
"The air tasted just the same, smelled just the same. The wind making my hair feel sticky, the salty sea breeze. It smells exactly the same, tastes the same, like it's been waiting for me to get here."
"I always hoped it would be Conrad."
"This could be my summer wish. This night. This boy."
"It was like coming home after you'd been gone a long, long time. It held a million promises of summer and of what it just might be..."
"How do you know when it's the right person?"
"He smiled at me, and that smile – he just gets in. His smile did it every time."
"You are the only boy I've ever thought about."
"I thought this summer was going to be like all of the other summers, but it's not. Because I won't let it be."
"I felt it a week before we left, every time. And then of course, when the time came, I was never ready to leave. I wanted to stay forever."
"My whole life, it's always been you."
"I loved the feeling of talking and having somebody really listen to what I have to say. It was like a high or something."
"I wonder if this is how all crushes die. With a whimper, slowly, and just like that, gone."
"Things change, whether you want them to or not, so it's about time I change, too."
"He's so nice. I could hang out with him like this all summer and be really happy."
"In this moment I realized if this can happen, maybe anything can."
"I wondered if it was possible to take someone's pain away with a kiss."
"Even my dream life is complicated."
"And in the end, he would become a memory, pressed in my heart like a leaf in my book."
"It feels like nothing else exists outside of that word, this moment. There's just us. Everything that happened this past summer and every summer before it, has all led up to this. To now."
"For me, it was almost like winter didn't count. Summer was what mattered. My whole life was measured in summers. Like I don't really begin living until June, until I'm at that beach, in that house."
"I had been lying to myself, thinking I was free, thinking I had let him go. It didn't matter what he said or did, I'd never let him go."
"Watching him serving rubbery eggs and pretending not to be sad, I thought to myself, I will love this boy forever."
"Winters are simply a time to count the weeks until the next summer."
"There were times this summer when I felt like I didn't know my own heart. But one thing I do know for sure, is that whatever happens next, I will always come back to this place and these people."