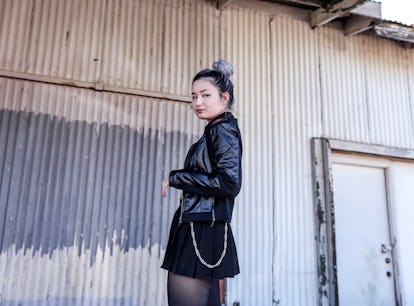 50 Teenage Dirtbag Captions To Throw It Back On Insta & TikTok
Dianne Gralnick/E+/Getty Images
Throwing it it back is nothing new to Instagram, but on TikTok, it's become a trend to show off your teenage dirtbag years. The social media app has a way of giving new life to certain songs, and "Teenage Dirtbag" by Wheatus has found its way to the FYP decades after it was first released. To participate in the trend, you may first need some captions for teenage dirtbag pics.
For anyone unfamiliar with the teenage dirtbag trend, it's just a way to show off your most rebellious and hilariously awkward pics from high school. While some people totally nail the teenage dirtbag vibe, others have found that they were the complete opposite of a teenage dirtbag. For instance, Jennifer Garner's teenage dirtbag Insta Reel showed off she was more of the girl next door with photos of her in band and dancing ballet in high school. Whether you fit the vibe or not, you definitely need some teenage dirtbag Instagram captions to go with your throwback pics.
These teenage dirtbag quotes and throwback Instagram captions work whether you're making a TikTok video or just posting a photo dump of old pics. Go for the LOLs like Joe Jonas or use this as an excuse to show off your fave pics like Christina Aguilera. Everyone had their version of a #TeenageDirtbag phase and it's time to share that with your friends.
"'Cause I'm just a teenage dirtbag, baby." — Wheatus, "Teenage Dirtbag"
"Listen to Iron Maiden, baby, with me." — Wheatus, "Teenage Dirtbag"
"I've got two tickets to Iron Maiden, baby. Come with me Friday, don't say maybe." — Wheatus, "Teenage Dirtbag"
"I had no idea what I was doing."
"I wonder if I can still pull off this look."
"This trend was made for high school me."
"I was really living my best life."
"I had the nerdiest teenage dirtbag phase."
"A throwback to better times."
"I nailed the teenage part. Dirtbag? Not so much."
"I still can't believe my mom let me out of the house in this."
"These are the days we try to recreate."
"I've always been a vibe."
"So glad I have pictures of this time."
"It's a vibe."
"Where is this 'fit?"
"I didn't think I had a teenage dirtbag phase, but I guess I did."
"Teenage Dirtbag (My Version)."
"My official teenage dirtbag pic."
"Honestly, I haven't grown out of this phase."
"An OG teenage dirtbag."
"Vintage me."
"It was a lewk."
"Some things never change."
"Still a dirtbag."
"Bad vibes are never my style."
"Anyone have a time machine I can borrow?"
"Nostalgic AF."
"I truly did not give AF."
"I hope this outfit comes back in style."
"It feels like this was yesterday."
"I had no idea what I was doing."
"Before doing it for the 'Gram was a thing."
"I had to."
"Wheatus wrote 'Teenage Dirtbag' about me."
"What a time to be a teenager."
"Isn't it funny how day by day nothing changes, but when you look back everything is different?" — C.S. Lewis
"The amount of eyeliner I wore is impressive."
"When Tumblr was my go-to."
"You would have put me in your top eight on MySpace."
"What was your AIM screen name?"
"That was a fun chapter."
"Still in my teenage dirtbag era."
"It was never a phase."
"How times have changed... or have they?"
"Still listening to Taylor Swift and One Direction."
"This took me way back."
"Who wants to go to Warper Tour?"
"Not sure about teenage dirtbag, but I was a teenager."
"When you can't do this trend because you were a nerd in high school."