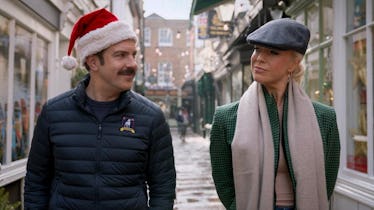 22 Ted Lasso Christmas Episode Quotes For Heartwarming Holiday Captions
"To the family we're born with, and the family we make along the way."
Apple TV+
Is there a more quotable show than Ted Lasso? Each episode sparkles with wit and heart-warming wisdom, but none truly does it better than Season 2's Christmas episode, "Carol of the Bells." The quotes are so good, in fact, that you'll want to use the Ted Lasso Christmas episode quotes as captions for all your fun and festive holiday posts.
Between the joyous get-togethers and the glittery decorations, there are tons of opportunities to take some truly memorable photos during the holiday season. But to top off an excellent photo, you need a caption that embodies the spirit of the holiday season. And, honestly, there's no better show to gather holiday quotes than Ted Lasso's Christmas episode. It's chockfull of sweet moments, like when Rebecca invites Ted to deliver gifts with her on behalf of Santa. As Ted says to the little girl at the door, "I ended up putting a whole sack of goodies on the wrong sled," when they deliver the presents in the middle of Christmas day, bringing her some delayed holiday cheer.
Think about how fun it would be to use one of the best Ted Lasso Christmas episode quotes as a social media caption with a photo of you and your crew exchanging gifts after Christmas. Plus, every diehard Ted Lasso fan will instantly recognize that line from the Christmas episode. You're sure to get a thumbs-up. Or as Ted prefers, a hug.
Ready to sprinkle your socials with a little Lasso love? Check out these quotes from the Ted Lasso Christmas episode to spread warmth, kindness, and a little humor to your feed.
"God bless me, everyone." — Jamie
"I think you might be dying." — Roy
"Santa's true power isn't his speed, but his endurance." — Sam
"See? Doesn't it feel better to solve a problem than to beat up a little kid?" — Keeley
"What a lovely inscription you wrote completely over my head, face, and body." — Coach Beard
"Hold me closer, tiny Dancer, Prancer, and Vixen!" — Ted
"Hey! I brought fried chicken." — Jan Mas
"I lost him to an overpriced guilt gift." — Ted
"Oy, wanker! Merry Christmas." — Richmond fan
"To the family we're born with, and to the family we make along the way. And most importantly, to Richmond!" — Higgins
"May your Secret Santa reveal himself." — Ted
"Mmm, that sounds like double-O heaven to me." — Ted
"How are you spending the rest of Santa's birthday?" — Ted
"It's gonna be a lovely afternoon of yuletide cheer in two dimensions." — Ted
"Have you got anything I can give as a present?" — Jamie
"Did you wrap these yourself? 'Cause it's very well done." — Ted
"It's no fun just keeping it in the box." — Ted
"What have you got to be sad about?" — Roy
"It's an inside joke. Mostly inside of him." — Ted
"Well, at least we have plenty of food and drink." — Higgins
"As elves, we've been personally directed by Mr. and Mrs. Claus to deliver your presents this afternoon and to apologize for the delay." — Rebecca
"I ended up putting this whole sack of goodies on the wrong sled." — Ted