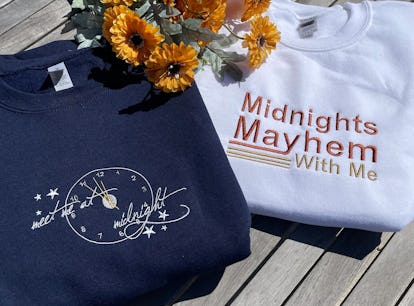 Taylor Swift Midnights Merch You Can Cop On Etsy For Cozy Late Nights
I need that Midnights cardigan RN.
What a time to be a Swiftie. Between staying up till midnight to see if she'll drop a new Midnights Mayhem With Me on TikTok and trying to decode what's already been revealed, fans of Taylor Swift are pretty busy leading up to the release of Midnights on Oct. 21. If you follow every move the singer makes, you've already seen and probably copped some of the official Midnights merch, but did you know there's also some cute Taylor Swift Midnights merch on Etsy as well?
Of course, a '70s-inspired colorblock crewneck and jeweled bracelet from Swift's official Midnights merch is a must, but sometimes you want more. And let's face it, you may be looking for a more budget-friendly way to support Swift as well, and Etsy is the place to do it. Whether you're in search of a new sweater to add to your fall collection or a Midnights-inspired sticker to add to your fave water bottle, there is some Taylor Swift Midnights merch on Etsy waiting for you.
With the reveal of more track names, there could even be more merch on the way. For now, though, browse these standout options, add to cart what catches your eye, and make yourself a coffee because we're staying up late until Midnights drops.
We may receive a portion of sales if you purchase a product through a link in this article.