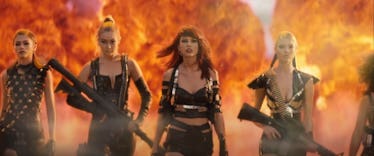 A Taylor Swift-Themed Breakup Pop-Up Is Opening For Valentine's Day
'Cause baby, now we got a "Bad Blood" bar.
Raise your hand if you're (im)patiently waiting for the release of 1989 (Taylor's Version). Taylor Swift has been dropping various hints to her next re-recorded album release, and many fans are hoping it'll be 1989. While the album is full of bangers from beginning to end, "Bad Blood" was a special standout for its star-studded music video and catchy lyrics. If it happens to be your favorite track from the album, you'll be happy to know that there is a Taylor Swift-themed breakup bar, Bad Blood, that's opening ahead of Valentine's Day.
Chicago Bucket Listers announced a Valentine's Day pop-up bar inspired by Swift on Instagram, but instead of couples, the bar is aimed at singles ready for revenge. Bad Blood: a Taylor-themed Break-Up Bar is for anyone who also happens to be a Swiftie not in love, but who's looking for something fun to do during V-Day season. Bucket Listers offers a variety of exclusive pop-ups in different cities. Right now in Los Angeles, Bucket Listers is hosting a Blockbuster speakeasy that's nostalgic AF and comes with Clueless and Titanic-themed drinks on the menu. For Golden Girls' fans in NYC, you can have brunch in the iconic kitchen where Blanche, Rose, Dorothy, and Sophia hung out in the show through Bucket Listers as well.
While there are tons of experiences to try, this breakup bar is a must-do for Swifties in the "Windy City."
What Is At The Taylor Swift-Themed Breakup Bar Coming To Chicago?
The Bad Blood bar will feature Swift-themed cocktails, and each reservation comes with a welcome-themed drink. There will also be a Shake It Off Wheel of Cocktails that you can spin to determine your "drink of choice."
As you're sipping, you can also snap some Insta-worthy photos with their Swift-themed decor. Post your hottest pics to the 'Gram to show your ex just what they're missing, and that you're "never, ever getting back together." Band-aids may not fix bullet holes, but a good time with your besties can always help you "shake it off" and forget about the drama. There will even be tarot card readers at the pop-up bar for you to see what "wildest dreams" are in your near future.
When Is The Taylor Swift-Themed Breakup Bar Opening In Chicago?
While the pop-up bar is for Valentine's Day, it'll actually be open much longer than Feb. 14. Bad Blood Chicago will begin Jan. 27 at the Electric Garden in Chicago and will end Feb. 26, so you'll have a month to figure out the best day for you and your fellow Swifties to go. There is a waitlist at the moment to be notified when tickets are available, and tickets will be just $20. That includes access to the breakup bar and your first drink at the venue. A schedule of time slots will also be coming later as well, and all sales are final with no refunds or exchanges allowed.
If you're on the Swiftie side of TikTok, you can find some super cute outfit ideas inspired by different Swift eras to wear to the Bad Blood bar. One super fun and right on-theme idea is to dress as the different characters in the "Bad Blood" music video. If you're following Swift's lead, you'll need a red wig, red lipstick, and an all-black 'fit. With this look, you'll "never go out of style."