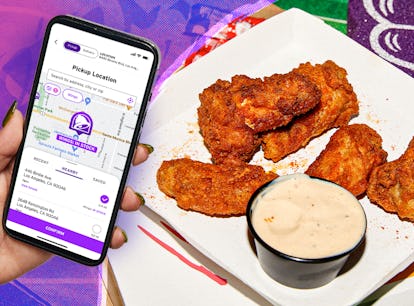 Review: Taco Bell's Crispy Chicken Wings Are Back For 2023
It's a football season miracle!
Courtesy of Taco Bell
Football season may be coming to a close, but Taco Bell is giving wings fans a reason to celebrate. The popular chain is bringing back the short-lived Crispy Chicken Wings in 2023 as part of a new Ultimate Game Day Box, which means you can end the season on a high note with the queso-seasoned staple. Your superstitions might have you wondering if the wings (and the box) are deserving of a spot in your game day spread, but I tried the appetizer ahead of its re-release, and once you check out this review of Taco Bell's Crispy Chicken Wings, you'll be ready to touchdown in T-Bell in no time.
If you didn't get the chance to snag the wings when they made their debut last year, here's a rundown on what you missed: The Crispy Chicken Wings, which were available for one week only in January 2022, are bone-in wings that feature an extra-crispy exterior and have been covered in a tangy Mexican Queso seasoning. But you can't have wings without something to dip them in, which is why they're served with a side of Taco Bell's Spicy Ranch.
You can thank football season for the Crispy Chicken Wings' triumphant return, because the game day staple is part of Taco Bell's new Ultimate Game Day Box, which launches on Thursday, Jan. 26, but you might have seen it already. "While a handful of TacoBell restaurants have soft launched the Ultimate GameDay Box in their location, national availability for this menu item still remains Jan. 26," a Taco Bell spokesperson told Elite Daily in an email on Jan. 23. The box comes with three snack options that are perfect for sharing (more on that later). Even if you're not rooting for a team, you can jump on the Crispy Chicken Wing hype by snagging this bite on its own for a limited time.
Elite Daily writer Annie Lin and I both tried the limited-edition chicken wings, and this review will have you wishing it could be football season all year long.
Taco Bell Crispy Chicken Wings Review
The Crispy Chicken Wings look just as good as they sound, but I was a bit bummed that I couldn't pick up any queso scent. Still, chowing down on the crispy bite is so satisfying. Plus, they're not messy like other kinds of wings can be (*cough cough* buffalo *cough cough*), which I really appreciated.
Despite its bright orange and yellow coloring, the Mexican Queso seasoning didn't come through as much as I hoped. When you find a spot that's heavily seasoned, though, it does give your wing a nice tang. Even if the seasoning did have a more prominent flavor, the mix of zest and spice from the Spicy Ranch would probably overpower it anyway, so you're not missing out on much TBH.
Lin shared a similar opinion, calling the wings and Spicy Ranch combo her "favorite item" in the Ultimate Game Day Box. She describes the wings as "crunchy on the outside, juicy on the inside," and enjoys how the dipping sauce "balanced the spice factor of the wings," but still brings the heat.
"The spicy ranch was so good, I would even consider dipping your pizza or taco in it too for extra flavor," says Lin.
How To Get Taco Bell's Crispy Chicken Wings
There are a couple ways you can snag the savory snack, including as an À La Carte option or part of a game day box that's sure to get you excited, even if your team isn't in the playoffs.
À La Carte
If you want to conduct a taste test of the stuff for yourself, you can order the Crispy Chicken Wings à la carte for $6.99, though prices may vary by location.
Oh, and BTW, the tasty bites are only available while supplies last, so you're gonna want to get your hands on the goods ASAP.
Ultimate Game Day Box
The Crispy Chicken Wings can also be found in Taco Bell's new Ultimate Game Day Box, which comes with:
Four Crunchy Tacos made with seasoned beef, real cheddar cheese, and crisp lettuce on a crunchy taco shell.
One Mexican Pizza featuring two flour shells, beans, seasoned beef, tomatoes, and a melted three-cheese blend.
Crispy Chicken Wings coated in Mexican Queso seasoning and served with Spicy Ranch.
I also tried the Ultimate Game Day Box, and the box separates the three menu items really well, but still manages to be compact enough that it can fit comfortably in even a studio apartment. The Crunchy Tacos are everything you expect them to be — crunchy, flavorful, and easy to hold in one hand while cheering for your team with the other. While nachos are usually a game day staple, the crispy flour shell and melted cheese and beef combo of the Mexican Pizza makes the fan-favorite bite a solid replacement.
The Ultimate Game Day Box is available while supplies last through Feb. 9, and you can order yours in-store and through the app for order ahead and delivery for $22 plus tax, according to a Taco Bell spokesperson.
Editor's Note: This post has been updated with a new release date for the Ultimate Game Day Box.
This article was originally published on