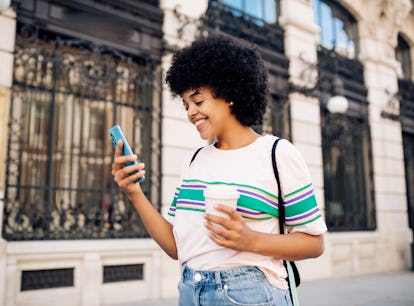 Swipe Photo Trends On TikTok To Try Out The New Viral Feature
Finally, a reason to share those selfies in your phone.
RgStudio/E+/Getty Images
You may have noticed a new trend going around the TikTok FYP. It's not a trendy dance or viral recipe, but rather a format trend, known as the photo swipe. TikTok's swipeable photo feature has really taken off and made way for several new TikTok trends featuring this template. There are meme-worthy photo swipe trends and ones that are cute relationship photo albums. Whether you're in it for LOLs, sharing sweet moments with your followers, or just revealing more about yourself to your friends, here are some swipe photo trends to try.
Instagram used to be the place to share all your fave photos for your friends to see. However, it seems lately like your feed is more videos than pics with the introduction of Instagram Reels. While you may love recording video vlogs of your life with your besties, it's a bit refreshing that TikTok is flipping the script as well and focusing on photos with this new trend. It gives you an opportunity to share those pics and selfies stored in your phone that you haven't shared on the 'Gram or elsewhere yet.
Luckily, it's really simple to share a photo swipe TikTok. All you need to do is select the photos you want to share and click "next." This will take you to the editing page, where it will default to the swipeable photo feature. You do have the option to "switch to video mode," but you don't want to do that for these photo swipe trends.