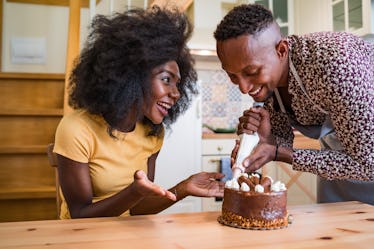 Super Bowl Dessert Recipes On TikTok To Score Big On Game Day
The Oreo dip is a touchdown.
valentinrussanov/E+/Getty Images
The sweetest part about Super Bowl Sunday is undoubtedly the dessert spread. Whether you choose to prepare ice cream cookie bowls or s'mores brownies, there are so many Super Bowl dessert recipes on TikTok that are total touchdowns. In fact, it might be hard to decide what treats you'd like to whip up and serve. Luckily, you can narrow down your options with the yummy Super Bowl dessert recipes featured on this list.
Recreating TikTok dessert recipes is so easy because most of them can be whipped up with ingredients you likely already have in your cupboard. For instance, you can use a cake mix to recreate a TikToker's football cupcakes, and give your sweets a Super Bowl twist. Or, you can follow another Super Bowl dessert recipe that requires cookie dough to make ice cream bowls. When it comes to TikTok, any dessert can be decorated to look like a football, including strawberries dipped in chocolate.
After you create and display your game-winning spread of Super Bowl Sunday desserts, you'll want to capture the sweetness with a snap on the 'Gram. That way, your followers can see how big you scored in the kitchen with Super Bowl dessert ideas. But, the best part is, by making any of these Super Bowl dessert recipes from TikTok, your housemates will declare you the real MVP of game day desserts.
This article was originally published on