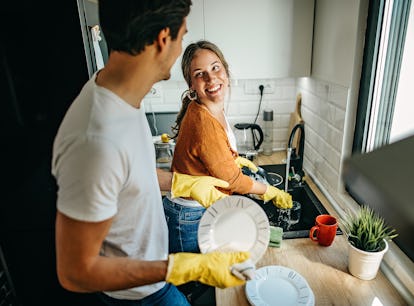 These Spring Cleaning Hacks On TikTok Will Start Your Season Fresh
I'm scared to check some of these places I've been forgetting to clean.
StefaNikolic/E+/Getty Images
Cleaning isn't always straightforward. Between the nooks and crannies that are hard to reach and the corners that keep getting dusty, tidying up can be quite daunting. Luckily, there are plenty of viral spring cleaning hacks on TikTok that can help you tackle your to-do list in half the time and effort. Before you know it, your home will look and feel as good as new with beloved products and organization tips.
Just imagine how luxurious you'll feel when you hop into a clean bed that smells like fresh meadows, or how content you'll be every time you open your closet to find everything you need right where it should be. You may even have more space to spare in your wardrobe now that you have some folding tricks up your sleeve. As you head for your next soak in the tub, you can rest easy knowing your bathroom is squeaky clean, even down to your faucets. The best spring cleaning hacks from TikTok leave no fleck of dirt or dustball unturned, which means your home will be completely fresh for the season.
Once you check off all the tasks on your to-do list, feel free to pat yourself on the back. Since these cleaning hacks on TikTok saved you time, you now have a lot more room in your schedule to kick back and relax on your newly cleaned couch.
This article was originally published on