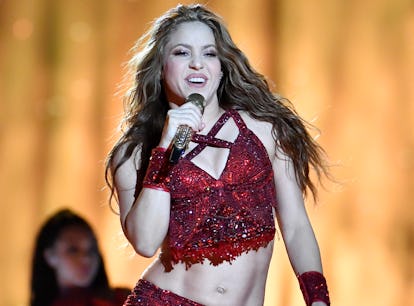 How To Do Shakira's Ab Workout In 6 Moves, According To Her Trainer
Focus On Sport/Getty Images Sport/Getty Images
Shakira's abs — and hips — are iconic. It's no secret that the Colombian pop star is a phenomenal performer and belly dancer, and it definitely shows in her ripped core. Off-stage, Shakira stays in shape with her longtime friend and personal trainer Anna Kaiser, who just dropped the singer's favorite core sculpting routine you can do at home. If you want to take your own burn up a notch, here's how to do Shakira's ab workout in just six challenging moves.
Shakira likes to keep her physical activity dynamic and fun, whether she's skateboarding, dancing, or focusing on a single muscle group in the gym. She also loves to follow Kaiser's popular dance interval workouts, which fans can try online, after a sweat session of strength training. Back in 2020 when she was prepping for her 2020 Super Bowl performance with Jennifer Lopez, Kaiser told Vogue that Shakira's fitness routine varied around an hour of body weight strength training, High Intensity Interval Training circuits, and some swimming for cardio.
It turns out that toning her abs is Shakira's favorite workout, though. In a January 2023 interview with Shape and an Instagram video shared with her followers, Kaiser revealed that the "Bzrp Music Sessions, Vol. 53" singer swears by a six-move ab workout that's revenge body goals. While it's quick, this surprisingly tough routine is designed to work every muscle in your core. Music, unsurprisingly, is a huge part of Shakira's fitness as well, and Kaiser always comes with fun beats to keep the singer on her toes. So, queue up a playlist with "Hips Don't Lie" and "Waka Waka," roll out your mat, and get ready to find bliss in the burn with Shakira's full ab routine.