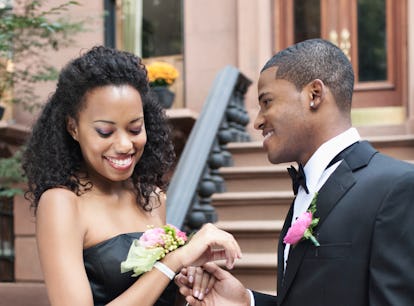 These TikTok-Approved Prom Proposal Ideas Will Make Your Ask So Unforgettable
Plan a promposal that's worthy of the movies.
Sonja Pacho/The Image Bank/Getty Images
Prom season is right around the corner, which means your dream prom proposal is probably on your mind. These days, getting asked to go to prom has become just as exciting as the dance itself — and it's so fun to capture the more unique ones on Instagram or TikTok so you can remember them forever. Before you get to the dress shopping and after party coordination with your BFFs, you'll want to start thinking of unique prom proposal ideas that are sure to score a date.
Whether you're the one asking or dropping hints to your partner, prom proposal ideas from TikTok can help make your special moment unique and one you'll remember forever. Putting in the effort to ask your date to prom in a special way takes some pre-planning, maybe a rehearsal or two, and perhaps some DIY skills. You also want to make your promposal one-of-a-kind and specific to your interests. So, while these eight prom proposal ideas are great to copy, feel free to also put your own personal spin on them.
For instance, you could propose to your partner with their favorite song or their favorite flowers. You can always switch up what you write on your prom proposal sign depending on the inside jokes you share together. As long as you're making the effort and thinking of your partner first and foremost, any of these prom proposal ideas from TikTok are sure to get you a "yes."