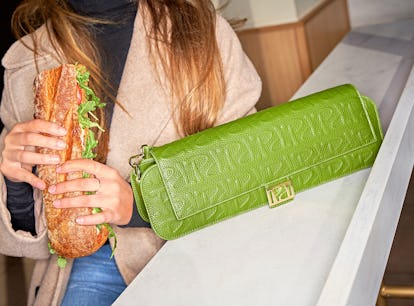 Will Panera's Viral BAGuette Bag Restock? TikTokers Are Obsessed
Fans who really *knead* this purse, listen up.
The baguette bag is a Y2K fashion accessory that has happily made its way back into the zeitgeist, and Panera jumped on this nostalgic trend with their own BAGuette. The viral purse is large enough to store one of Panera's new Toasted Baguettes, and it quickly sold out in just nine hours. Unsurprisingly, TikTokers quickly demanded a restock. Luckily, if you missed out on the first drop, there will be a second one on Feb. 14 to keep an eye out for.
You do not want to miss out on owning your own baguette purse that just so happens to fit a whole Panera baguette as well. The bag is so beloved that fans are commenting things like "pleaseeeee restock I'm begging u" and "PANERA PLS SELL MORE I NEED ONE RN" on TikTok. If you're also on the Y2K accessory train, ,ark your calendar now for Valentine's Day, which is when you'll be able to purchase the $40 BAGuette bag once again. Panera's viral BAGuette bag is 12 inches long inside and features a removable strap. From far away, you would never guess this purse is inspired by Panera, except for its Panera green color and golden "P" buckle on the front that resembles the Panera logo. The BAGuette is perfect for adding a vibrant pop of color to your OOTD, or you know, just carrying around a baguette for snacking throughout the day.
Panera's BAGuette Bag Restock
The easiest way to get your hands on Panera's BAGuette bag is to jump on the restock as soon as its live. According to a Panera representative, "[D]ue to the demand, Panera will be doing another drop of BAGuette bags on Tuesday, Feb. 14." If you want to be able to snag one for yourself, set an alarm that day so you can jump on online and click "add to cart" before anyone else.
How To Win Panera's BAGuette Bag
If you're a foodie and MyPanera member, there's another (more delicious) way to get your hands on a BAGuette. Between now and Feb. 13, you can enter for a chance to win a BAGuette by buying all three of Panera's new Toasted Baguette Sandwiches. The three new sandwiches are a Green Goddess Capresse Melt, Pepperoni Mozzarella Melt, and Smoky Buffalo Chicken Melt.
Fans of the viral green goddess salad from TikTok will want to try Panera's baguette sandwich version first, which includes Peppadew peppers, fresh mozzarella, grated parmesan, basil, arugula, green goddess dressing, garlic aioli, salt, and pepper on a Panera baguette. You can either buy all three sandwiches at once or individually — just as long as you try them all before Feb. 13. Once the window closes, three lucky winners will be chosen to receive their own BAGuette purse in the mail.
If none of those options work for you, you could just buy a BAGuette bag from a reseller, but it'll cost you. According to eBay, the BAGuette is currently listed around $150 right now, which is close to four times the price of the actual purse. One reseller even has theirs listed for over $3,000. Is a Y2K-inspired purse that's large enough to fit a baguette really worth that much? If it's something you loaf a lot, it may be.