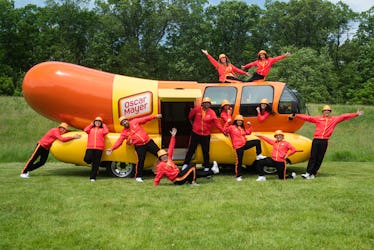 How To Apply For Oscar Mayer's Wienermobile Job — & What You'll Make
Courtesy of Oscar Mayer
Job hunting can be so stressful, as you put in application after application and wonder why you need to regurgitate in a cover letter everything that's already in your resume. To help break up the monotony, Oscar Mayer is promoting a fun gig — and it's not your average post-grad job. The position in question involves driving the brand's iconic Wienermobile across the country as an official Oscar Mayer spokesperson, or as the brand calls them, Hotdoggers. It's probably not the career path you had in mind, but hear me out: You'll get to travel to over 20 states and attend over 200 events a year (some that may even involve ~celebrities~). Here's how to apply to be an Oscar Mayer's Wienermobile driver, and how much money you can expect to make behind the wheel.
Oscar Mayer is, of course, known for its hot dogs, ham, bologna, and Lunchables, but the brand's most recognizable icon isn't even edible. The totally nostalgic Wienermobile has been around since 1936, and only a dozen lucky college grads per year get to hop behind the wheel of one of six Wienermobiles on the road. With a new application period, now's your time to put your name in the running to drive a Wienermobile and get paid to travel in it for a one-year, full-time gig. If you think you've got what it takes to be an Oscar Mayer brand ambassador — and you've got a driver's license — this could be the gig for you.
You'll even get a fun nickname like Hotdogger Ketchup Kaitlyn, who said in a Jan. 7 Instagram post that the job is like "the road trip of a lifetime, but in a giant hotdog." The only thing standing between you and a roadtrip in a Wienermobile is hitting submit on your application.
What Does A Hotdogger Do?
As you'd expect, driving a Wienermobile across the country adds up to a whole lotta miles on the road, 20,000 on average to be precise, according to a press release shared with Elite Daily. Aside from traveling, you'll be "a marketing firm on wheels," Ed Roland, Sr. Manager Brand Communications for Oscar Mayer, said in the press release. In other words, you'll be "a brand ambassador through radio and television appearances, newspaper interviews, grocery retail and charity functions," per the job description.
You'll get to attend events and meet people in small towns to big cities while handing out the brand's famous Wiener Whistles. You may even drive around celebrities, including a certain royal who's releasing a memoir. ICYMI, Prince Harry rode in the Wienermobile in 2021 and called it "living the American dream."
Oscar Mayer is looking for "outgoing, creative, friendly, enthusiastic, graduating college seniors" who are "willing to see the country through the windshield of the Oscar Mayer Wienermobile." They are looking for applicants with a Bachelor's degree in preferably "public relations, journalism, communications, advertising, or marketing" and "a love of hot dog puns."
How Much Does The Wienermobile Job Pay?
The yearlong job has a base annual salary of $35,600, according to the job listing on the KraftHeinz website. Wienermobile drivers also get a $150 weekly allowance for meals and personal travel, which is $7,200 per year. Hotdoggers are given 18 paid days off and receive a full health benefits package. Plus, all hotel expenses are covered, so you won't have to put your weekend stipend toward your nightly stays — and you'll also have the unique experience of driving a 27-foot-long vehicle shaped like a hot dog.
When Does The Wienermobile 2023 Job Start?
The 12 lucky Hotdoggers will attend Hot Dog High to train for the job in 2023, accordin the brand, and they'll be behind the wheel of Wienermobile as soon as the training ends. So, you can expect to be on the job from Summer 2023 through the begining of Summer 2024.
How To Apply To Drive The Wienermobile
So, you're ready to begin your Hotdogger journey? Submit your resume and cover letter before Jan. 31 via email to wmrequest@kraftheinzcompany.com or mail it to Oscar Mayer, Attn: Hotdogger Position, 560 E Verona Ave, Verona, WI, 53593.
There are only 12 Hotdogger positions available, and the hiring rate is apparently less than 1%, so you know there's competition. But don't let that stop you from mustering (or mustarding — gotta work on those puns!) up the courage to apply.