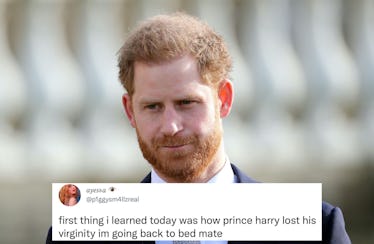 Twitter Wishes Prince Harry Would Spare Some Details In His Memoir
Probably could have done without that virginity story.
Chris Jackson/Chris Jackson Collection/Getty Images; Twitter
Prince Harry's candid memoir Spare is set to come out on Jan. 10, but copies of the book were leaked a week early, and now the public knows a lot (maybe too much?) about the royal. From his circumcision to his virginity story, Harry spilled plenty of details in his memoir. But Twitter isn't exactly thrilled about learning so much about Harry's life — especially when it came to details about his genitals.
If you've been blissfully unaware, here's what you missed: In Spare, Harry reportedly discussed the public interest in his penis (yes, really). "The press had written about it extensively. There were countless stories in books, and papers (even The New York Times) about Willy and me not being circumcised," he wrote, per Page Six, adding that he was "snipped as a baby." He also discussed having a frostbitten penis at Will and Kate's wedding. Oh! And he described losing his virginity, according to The Daily Mail: "I mounted her quickly, after which she spanked my *ss and sent me away. One of my many mistakes was letting it happen in a field, just behind a very busy pub. No doubt someone had seen us."
In short, Harry gave the internet plenty to talk (and meme) about. Here are some of the best Twitter reactions to Spare. First up, the virginity reactions:
Harry's penis tales also got a lot of attention on Twitter. Apparently, TMI doesn't exist on the platform — even when it comes to circumcision and frostbite.
Although the memoir isn't technically out yet, it's already more phallic than anyone could have predicted. Fortunately, Harry didn't stop there. He also opened up about his relationship with Prince William — whom he calls Willy.
Apparently, the two got into a fight over Meghan Markle in 2019, which turned physical. "He grabbed me by the collar, ripping my necklace, and he knocked me to the floor," Harry said, according to The Guardian. "I landed on the dog's bowl, which cracked under my back, the pieces cutting into me. I lay there for a moment, dazed, then got to my feet and told him to get out."
Though many tweets captured the spirit of Spare, there was one that summed up the rest: