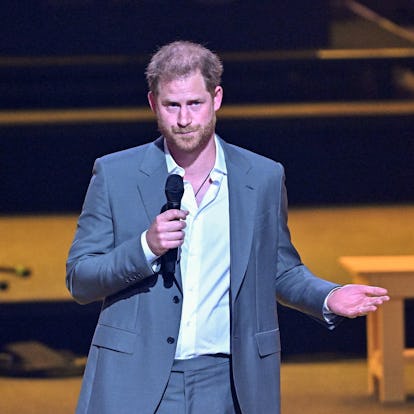 Prince Harry Shared How He Lost His Virginity In Spare
He called it a, ahem, "quick ride."
Samir Hussein/WireImage/Getty Images
Prince Harry's memoir Spare is coming out on Jan. 10, but already, fans know plenty about the 38-year-old's book — perhaps too much? According to Page Six, in Spare, Harry detailed how he lost his virginity to an older woman in a "quick" encounter when he was 17. (Cheers to his editor for getting him to spill that tidbit!)
In the book, Harry described the "inglorious episode" of losing his virginity to an "older woman." He wrote, "She liked horses, quite a lot, and treated me not unlike a young stallion... Quick ride, after which she'd smacked my rump and sent me to grace." Apparently, Harry doesn't look back on the moment too fondly. "Among the many things about it that were wrong. It happened in a grassy field behind a busy pub," he wrote.
The Daily Mail reported a slightly different wording. Per the outlet, Harry wrote about being confronted by a bodyguard following his one night stand. "I suspected he was referring to my recent loss of virginity, a humiliating episode with an older woman who liked macho horses and who treated me like a young stallion," he wrote. "I mounted her quickly, after which she spanked my *ss and sent me away. One of my many mistakes was letting it happen in a field, just behind a very busy pub. No doubt someone had seen us." (OK, so same general theme, but a little more... graphic and horse-themed.)
Per the outlet, Harry didn't name the older woman in question, though many have guessed it's Elizabeth Hurley. (Hurley denied the rumors in a December 2022 interview with The Times.)
This wasn't the only NSFW story in his memoir. Harry also opened up about his, um, equipment in an alarming amount of detail. "My penis was a matter of public record, and indeed some public curiosity," the prince wrote, per Page Six. "The press had written about it extensively. There were countless stories in books, and papers (even The New York Times) about Willy and me not being circumcised."
"Mummy had forbidden it, they all said, and while it's absolutely true that the chance of getting penile frostbite is much greater if you're not circumcised, all the stories were false. I was snipped as a baby," Harry continued. Good to know!
Another penis anecdote for good measure? "The pre-wedding dinner was pleasant, jolly, despite Willy visibly suffering from standard groom jitters," he recalled of his trip to Antartica ahead of Prince William and Kate Middleton's 2011 wedding. "I regaled the company with tales of the [South] Pole. Pa was very interested and sympathetic about the discomfort of my frostnipped ears and cheeks, and it was an effort not to overshare and tell him also about my equally tender penis." Well, royal etiquette won that round.