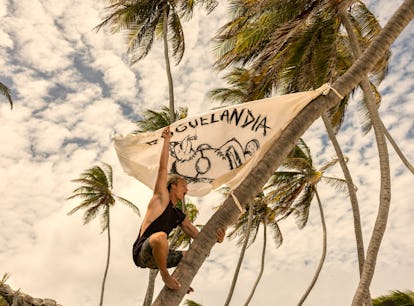 Visit Poguelandia IRL At Netflix's Immersive Outer Banks Experience
The free pop-up includes a concert with Khalid, Lil Baby, and more.
JACKSON LEE DAVIS/NETFLIX
Outer Banks will return for Season 3 on Feb. 23, but before that, fans can experience Poguelandia for themselves IRL. For the first time ever, Netflix is putting together a music festival and immersive experience inspired by Outer Banks. Bringing North Carolina to California, fans will get to see artists like Khalid and Lil Baby perform live and step into the world of Poguelandia through Insta-worthy photo moments. The cast of OBX will also make an appearance along with some other special guests — and the whole Poguelandia Outer Banks experience is free.
For anyone who needs a little Outer Banks refresh before marathon-watching the newest season, the last time we saw the Pogues, they had just landed on their island they named Poguelandia. While it looks like they'll be leaving their island behind to go on yet another treasure hunt to find El Dorado, this Poguelandia concert experience is a chance for you to feel like one of the OBX crew before everything goes down.
Along with the Pogue-approved musical performances, fans will also get a chance to eat at The Wreck, the restaurant that Kiara's parents own in the series. There will even be a Kildare Surf Shop with items from America Eagle and OBX's capsule collection that will be dropping on Feb. 16. If this sounds like an adventure you're down to go on, here's everything you need to know about the Poguelandia Outer Banks experience.
When Is The Poguelandia Outer Banks Experience In California?
The Poguelandia experience will be happening Saturday Feb. 18, just a few days ahead of when all 10 episodes of Outer Banks Season 3 will be dropping on Netflix. The event will be taking place in Huntington Beach, which is just south of Los Angeles.
What Is The Poguelandia Outer Banks Experience?
Think of the Poguelandia concert as Coachella, but for Outer Banks. The one-day immersive event will have performances by Khalid, Lil Baby, alt-J, Elley Duhé, Surf Mesa, and The Nude Party, but you'll also have the opportunity to walk around and take in the "Pogue life" through different immersive experiences as well. You'll want to have your phone ready for snapping selfies at various OBX locations that have been recreated for the experience.
For instance, you can stop by The Wreck for something to eat or check out The Boneyard for a drink. The Boneyard is the beach that both the Pogues and the Kooks party at, so it makes sense that it's the name of the bar in Poguelandia. While the cast of Outer Banks will make special appearances, some fans may be starstruck to see The Twinkie as well — aka John B's VW van. The brown and white van will be on site for you to snap pictures with.
Take some time to shop at the Kildare Surf Shop before the day is done, which is where you'll be able to find the American Eagle Outer Banks merch that includes tees and hoodies.
How To Get Tickets To Outer Banks' Poguelandia Experience
Don't have any gold like the Pogues? No worries. The Poguelandia Outer Banks experience is totally free. Tickets will be available for fans starting Feb. 4 at 10 a.m. PT. Since they are free, tickets are sure to sell out quickly, so be sure to set an alarm on your phone so you're able to snag them ASAP. If you're not in California, no need to stress either. Netflix is also flying out some lucky fans to go to Poguelandia, too.
You'll need to go on a treasure hunt like the Pogues to snag these exclusive tickets. To participate in the OBX gold hunt IRL, you'll either need to be in Raleigh, North Carolina or Jacksonville, Florida. There will also be an online game, but for anyone attempting to win in person, stop by Hillsborough Street in the Zaxby's parking lot in Raleigh on Feb. 5 between noon and 5 p.m. ET or the St. John's Center in Jacksonville on Feb. 7 from 1 p.m. to 6 p.m. ET. In each location, participants will be digging for golden tickets in sand mounts. If you're attempting to win online, entries for that will be available starting Feb. 4 until 9 p.m. PT on Feb. 7.
The three lucky winners of the OBX gold hunt will be flown out to Los Angeles for the Poguelandia concert. You'll receive two tickets to the event for you and a friend along with flights, ground transportation to and from the airport, and a hotel stay during your three-day, two-night trip. You'll also get $600, which you can then use on Outer Banks merch, food, and drinks at the concert. Honestly, this sounds like a Pogue's dream come true, so happy hunting, and hopefully you'll get to join John B. and his crew in Poguelandia very soon.