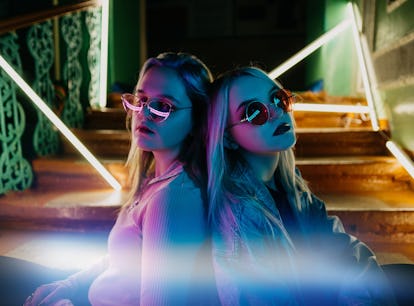 How Mars Retrograde 2023 Ending Will Affect Your Zodiac Sign
Enough of the shoulda, coulda, woulda.
Sergey Mikheev / EyeEm/EyeEm/Getty Images
When planets station direct, there's always a sense of relief that comes with it. Although, for those of you wondering how Mars retrograde 2023 ending on Jan. 12, 2023 will affect your zodiac sign, you're in for a treat. Mars direct is bringing you back to speed as it ends its retrograde in Gemini, and every zodiac sign will be affected.
Mars has been retrograde in Gemini since Oct. 30, 2022, and this go-getter planet of assertion, passion, and combat is responsible for everything from our energy levels to our carnal instincts. Gemini, on the other hand, has everything to do with one's local community, immediate exchanges, thought process and communication style.
When Mars transits through fickle, inquisitive and curious Gemini, there is a collective buzz of thoughts, conversations and an inner dialogue that's almost impossible to ignore. To say there's something on your mind would be an understatement, as Mars in Gemini heightens our desire for conversation and heated discussions in general. There's a strong urge to obtain the facts, and our curiosities are at an all-time high.
During this retrograde, you may have been left with no choice but to go within, retrace your steps and reflect on the impulses behind your actions: Where were you more prone to jump to conclusions, as opposed to allowing information to flow towards you? There will always be an infinite amount of possibilities and worse case scenarios, so it's important that we continue to choose our battles wisely.
Here's what you can expect as Mars retrograde comes to an end:
Aries (March 21 - April 19)
Hooray! After taking a closer look at the dynamic of your immediate exchanges — not to mention the miscellanies that had your mind on overdrive — you're finally ready to take a brand-new approach. The best part? Mars is your celestial ruler, so, if you felt lethargic or uninspired, you'll be getting your mojo back.
Taurus (April 20 - May 20)
Mars retrograde put a magnifying glass on the outdated perceptions and stories surrounding your moneymaking abilities and sense of self-worth. The same goes for the duality behind your spending habits, especially for those of you who swing between hoarding and overspending. There's no need to compare yourself or your situation to that of others, and you're about to see this firsthand.
Gemini (May 21 - June 20)
It's not everyday the planet of passion and energy transits through your sign, let alone retrogrades there, so the past few weeks have been an interesting learning experience for you. But in addition to going within and reflecting on your motivations and musings, you got to the root of your desires. After much contemplation, you're ready to take the lead and confidently sort out your priorities.
Cancer (June 21 - July 22)
With so much background noise — mostly stemming from your emotional psyche — it's hard to pin point what it is you're truly desiring and longing for, which is precisely what Mars retrograde brought to light. After going within and gathering the necessary insight, you're not only more self-aware but also more trusting of your own intuition.
Leo (July 23 - Aug. 22)
Mars retrograde touched down on your 11th house of society, associations, and sense of belonging in the world, which challenged you to reflect on the duality of your individual expression versus the innate desire to fit in. However, this brought you perspective, which now encourages you to connect with those who inspire, and bring out the best in you.
Virgo (Aug. 23 - Sept. 21)
Whether to take the lead or to keep things low key was an ongoing question throughout Mars retrograde, as it lit up your 10th house of authority, and public reputation. However, after sorting out your professional priorities and reconnecting with your passion projects, you're ready to hit the ground running.
Libra (Sept. 21 - Oct. 22)
If you were once reluctant to venture out of your comfort zone, or perhaps more rigid when it came to your world view, go-getter Mars in retrograde challenged you to retrace your steps and reconsider your belief systems. Mars also rules your relationship sector, so chances are this reflection period also highlighted the duality of your connections and the philosophy behind your commitments. Mars direct means you're seeing things a new light now, making it easier to move forward.
Scorpio (Oct. 23 - Nov. 21)
You're traditionally ruled by Mars, which made this retrograde all the more challenging, but still much-needed nonetheless. For instance, during its backspin through multifaceted Gemini — your eighth house of intimate unions and joint ventures — you were challenged to go within and become more discerning with your investments. Now, you're not only ready to speak on your repressed rage, but also decide whether you want to move forward on a particular commitment.
Sagittarius (Nov. 22 - Dec. 20)
Although you've never had an issue with speaking your truth, Mars retrograde in Gemini left you with no choice but to confront the information you may have conscious or unconsciously omitted from a significant other, be it personally or professionally speaking. Mars direct, on the other hand, is presenting you with an opportunity to assert yourself, and take the necessary risks.
Capricorn (Dec. 21 - Jan. 19)
Working hard, or hardly working? When the red planet stationed retrograde, it challenged you to take a much-needed pause in your daily routine, in order to reflect on the "story" or inner dialogue surrounding your habits, productivity levels, as well as the atmosphere of your day-to-day. How can you make your life easier, and less stressful? It's time to put a plan into action.
Aquarius (Jan. 20 - Feb. 18)
Mars retrograde touched down on your fifth house of creative expression, passion projects and individual authenticity, urging you to reflect on the duality of wanting to be admired and recognized. Now that you've reflected on the story behind your creative musings and how you express these unique gifts with your immediate environment, you're ready to step into your fullest potential.
Pisces (Feb. 19 - March 20)
Family patterns could've been of greater prominence under this retrograde, especially since Mars was backspinning through your fourth house of home, family matters and innermost feelings. Energies surrounding your humble abode, family dynamic and that which makes you feel safe were likely top of mind, but now that you've become more self-aware about these thought patterns — or perhaps even a lack of communication amongst you and your relatives — you're ready to change the narrative for yourself, and for the sake of your future children.