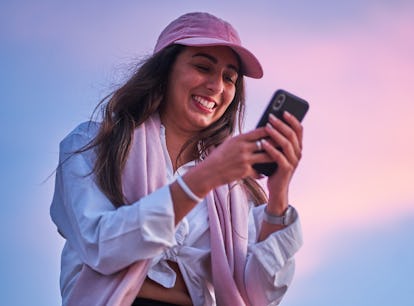 These iPhone Hacks From TikTok Are The Coolest Tricks Yet
Does Apple even know about these?
Daniel Lozano Gonzalez/Moment/Getty Images
Thanks to TikTok, there are always new social media and hacks to learn. There was the time you got the scoop on how to clean your AirPods, and the time your favorite TikToker showed how to pose in mirror selfies. But, despite having tons of good hacks in your back pocket, you're still looking for more iPhone hacks on TikTok that'll make your life easier and, let's be honest, cooler. You want to know all the shortcuts that exist especially with so many new iPhone updates, especially if that include hacks to getting the best photo or making daily taps more efficient. You don't want to be left in dark mode on the unique ways you can tap the back of your device or take photos that are as high-definition as a movie. Give your thumb a break from the swiping and scrolling – literally (see #3 and #9) and take notes with these 10 iPhone hacks on TikTok.
Each might make your mouth drop or make you think, "Why haven't I been doing this all along?" or "Does Apple even know about this?" It's almost as if they planted infinite easter eggs in the Settings app for us to discover, and there are a lot of hidden hacks that are game-changing. We're on our phones constantly and may not appreciate all the things we can do with them, like pressing a button to switch to super crisp videos or creating new images in the Photos app. Whether you're changing up your home screen again or dipping your toe into unconventional ways to hack your iPhone, grab these new tips for personalizing your tech experience.
This article was originally published on