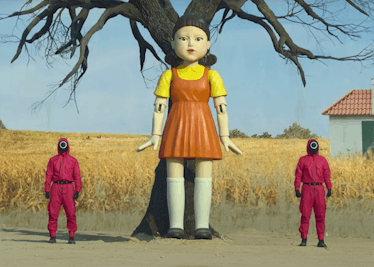 35 Captions For Your Squid Game Costume To Win Halloween On The 'Gram
Give yourself the green light to post ASAP.
Netflix's Squid Game has really taken over since its premiere on Sept. 17, inspiring TikTok trends, group chat convos, and even last-minute Halloween costumes. With how popular Squid Game has become, you can expect to see many inspired looks like red jumpsuits and green tracksuits on Oct. 31. If you have a VIP or Front Man look in mind for yourself, you'll need some captions for your Squid Game costume to make sure your selfies stand out on the 'Gram,
Similar to the participants in the series, you're looking to win big — and the way to do that on Instagram is with a good caption. While a pumpkin pun or cute Halloween caption works for your costume post every year, you'll want to get super specific this year with these 35 Squid Game captions to appeal to all your fellow fans. If you're planning to dress as the "red light, green light" doll with an orange overall dress and yellow shirt underneath, you'll definitely want to use a Squid Game caption inspired by the deadly games they play. Perhaps, you're so inspired by the games that you even plan on having a Squid Game Halloween party where you play them with your friends instead of bobbing for apples or carving pumpkins. With everyone dressed as a player in matching tracksuits, you'll want to have some Squid Game quotes prepared for all the inevitable group pics and candid shots.
Activities like trying to cut shapes out of Dalgona candy is already hard enough, so make the posting process super easy by having these Squid Game costume captions ready to go.
"Who wants to play a game?"
"Don't get caught by the robot doll."
"Red light, green light."
"Do you think you can survive the 'Squid Game?'"
"With my luck, I'd get the umbrella."
"If you do not wish to play, please let us know now." — Guard
"Winners of all six games will get a handsome amount of money." — Guard
"Don't lose your marbles."
"Just waiting for the green light."
"Some people get triangles and some get umbrellas. That's life."
"Keep your eyes open." — Gi-hun
"'Squid Game' taught me that your favorite character is probably going to die."
"Do you know what someone with no money has in common with someone with too much money? Living is no fun for them." — Il-nam
"I've trained for this since recess."
"We've already come too far to end this now." — Sang-woo
"Would you vote yes or no to keep the games going?"
"I'll do whatever it takes." — Ji-yeong
"Let the games begin."
"This isn't right! We shouldn't be killing each other like this." — Gi-hun
"A player who refuses to play will be eliminated." — The Front Man
"Don't move."
"I'm good at everything, except the things I can't do."
"Isn't my outfit just marbleous?"
"Watch where you step."
"It helps to have a strong team."
"Don't betray me."
"I think we make a great team."
"It's a tug of war." — Paul McCartney, "Tug of War"
"Red lights, stop signs." — Olivia Rodrigo, "Drivers License"
"I'm waiting for it, that green light, I want it." — Lorde, "Green Light"
"Oh shoot, I moved."
"Walking on, walking on broken glass." — Annie Lennox, "Walking on Broken Glass"
"Cut it out." — Full House
"Who knew children's games could be so deadly?"
"Don't trip."