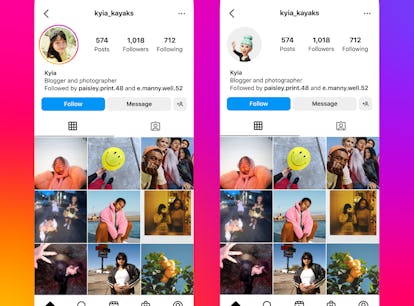 Instagram's New Animated Avatar Profile Picture Gives You More Options
Courtesy of Meta
You don't have to wipe your Instagram account like a pop star announcing their next big era to give your IG a refresh. All it takes for a fresh start is to update your profile pic. The best part is, you don't even have to get all dolled up for the camera to snap your shot, because Instagram launched a new avatar profile feature option on Jan. 24, which lets you switch between your original pic and your avatar with a simple swipe. If you're ready to transform your IG account, here's how to use Instagram's avatar profile feature for options.
On the heels of rolling out a Quiet Mode feature that lets you personalize your experience, Instagram announced another way to customize the way you use the app: avatar profile pictures. The dynamic feature allows you to set two profile pictures — the one you have now and your avatar. What makes it unique is that you can swipe on your profile photo to switch between the two pictures, giving very "now you see it; now you don't" vibes. It's a seriously fun way to welcome users to your profile, and it's perfect for living out your dreams of being a cartoon character, too — Lizzie McGuire isn't the only one with a cartoon alter ego.
Instagram's Jan. 24 tweet about the new avatar option features an example from a user who's OG prof pic is swapped for a blue-haired avatar with a top bun, and the avatar is waving it you.
The update was quietly rolled out, so you might not even be aware you have the option. If you haven't used your Avatar since you gave it a refresh in February 2022, you'll have an option to spruce it up first.
How To Make An Avatar On Instagram
If you haven't created an avatar yet, setting your avatar profile pic is going to take a few extra steps. Here's what you'll need to do:
Navigate to your profile.
Open "Edit profile."
Tap the circle next to your profile picture, or tap "Edit picture or avatar."
Select "Create avatar."
Once you do that, you'll be taken to the avatar editor where you can select everything from your skin tone and hair color to outfit and piercings.
How To Add Your Avatar To Your Instagram Profile Picture
You're probably used to using your avatar in DMs and Stories, and adding your avatar profile pic almost as simple — you just need to know where to look:
Open the Instagram app.
Navigate to your profile.
Tap the "Edit profile" button under your bio.
Tap the photo of your avatar.
From there, you should get a pop-up that asks you if you want to add your avatar to your profile picture. By tapping the "Try it" option, you can choose between six different poses and 12 background colors before setting your avatar prof pic. When you're finished, tap the "Done" button in the top right corner.
If you don't want to add your avatar profile picture right away, you can always do it later by opening the "Edit profile" page, tapping your avatar, and toggling on the "Add to profile" option.
If you don't see the pop-up after tapping your avatar, it's not the end of the world. Updating your app should be a quick fix, but if that still doesn't work, you might want to wait it out a day or two before trying again. According to Meta, the feature was fully rolled out as of Jan. 25.
How To Flip Between Profile Pictures On Instagram
Your profile will flip from one picture to the other when you or someone visiting your page swipes left or right on your picture. When they do that, your avatar will show up and wave. If you have an active Story up you may end up opening your Story by accident, but an easy way to avoid that is to quickly swipe from right to left or left to right.
BTW, in case it wasn't clear, you won't be able to set your avatar as your main profile picture (aka the first pic you see when you visit your profile). It appears you can only reveal the avatar by swiping — but once you swipe to your avatar, it'll stay there until you swipe again or navigate away from the profile.