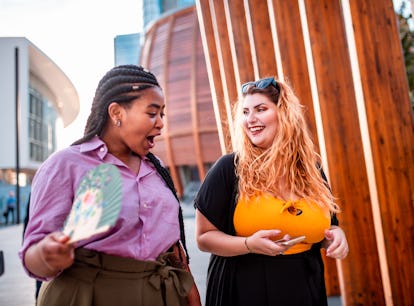 Here Are 80 Inappropriate Group Chat Names For Your NSFW Convos
I can just hear Michael Scott saying, "That's what she said."
MStudioImages/E+/Getty Images
With your besties, you can be your most authentic and unfiltered self. That's why your text conversations are so open, and there's no topic off the table with your group chat. You'll discuss everything from dating horror stories to office gossip. For a chat that free, you'll need some inappropriate group chat names to match it.
These inappropriate group chat names are not your grandmother's group chat names. They're more cheeky and fun than the sweet and simple group chat names you'd go for when naming your family chat. They aren't offensive, but can tread on the NSFW side, so you may also want to avoid using any of these inappropriate names for your work besties group chat. In short, this list of group chat names should be for your BFF crew only.
This is the group you share everything with after all, so you're always brutally honest while also sharing the same sense of humor. Both those qualities are why you'll be honest about which of these 80 inappropriate group chat names you prefer to use and which one makes you LOL the hardest. Once you have the perfect group chat name all picked out, you can go back to dishing on what you did last Saturday night and spilling the tea you just heard.
My Main Beaches
Sofa King Awesome
Four Play
Chamber Of Secrets
About Last Friday Night
Caution: Tea Is Scalding Hot
Breast Friends
Rosé All Day
Wine Not
Menace To Sobriety
That's What She Said — The Office
I'll Have What She's Having — When Harry Met Sally
Minx Mates
Blood, Sweat, And Beers
Hangovers Happen
A Dumpster Fire
Pretty Little Liars
Sex In The City
Adults Only
Happy Hour Crew
Sip Back And Relax
We Like To Wine
I Need Two Men On This — The Office
I Got A Fine Glass
Sip Happens
You Can't Sip With Us
Alcohol You Later
Stop And Smell The Rosé
In The Spirit
You Had Me At Merlot
Hakuna Moscato
Making Pour Decisions
Let The Fun Be Gin
Worth A Shot
My Gin-credible Friends
Party Starters
Smells Like Team Spirit
The Final Girls
Don't Worry Beer Happy
Wish You Were Beer
Born To Rum
Tequila Made Us Do It
World Shameless
Dead On The Inside
TikTok Made Me Do It
A Vegetarian Missed Steak
A Hot Mess
Rather Be In Harry's House
We're Not Shy
A Little Faded
Real Hot Girl Sh*t — Megan Thee Stallion
There's Some W****s In This House — Cardi B featuring Megan Thee Stallion, "WAP"
We Make Money Moves
Don't Try This At Home
Always Thirsty
Thots Only
Warning: This Is A Thirst Trap
Worth The Hype
I'm A Savage — Megan Thee Stallion, "Savage"
Smooth Like Butter — BTS, "Butter"
Did Something Bad — Taylor Swift, "I Did Something Bad"
Hot Shots
Sheet-faced Ghosts
Drinking With My Boos
Hoppy Hour Crew
We Got The Sauce
We Twerk Well Together
Hindsight Is 2020
Pitcher Perfect Friends
Our Milkshakes Bring All The Boys To The Yard
We Got Whiskey'd Away
Where My Beaches At?
Twerk From Home Crew
Whatever Twerks For You
Getting Back To Twerk
Meet Us At The Bar
Resting Witch Face
Don't Show This To HR
Let's Just Blow This Party Off — The Office
Getting Our Sh*t Together