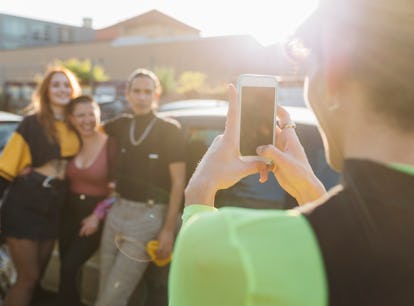 How To Pose For Pictures For An On-Trend Grid, According To A Photographer
Tips and tricks to nail the Y2K aesthetic.
Westend61/Westend61/Getty Images
We've all been there before. Your friends takes out their camera to snap a pic and you're immediately filled with the awkward feeling of not knowing what to do. Do you throw up a peace sign or look away as if it's a candid shot? Let's not even get started on what to do with your hands. The struggle can be real, which is why you need some posing tips from a professional photographer to figure out how to pose for pictures.
Alex Frank is a NYC-based professional photographer and Nikon creator with nearly 247K followers on TikTok. Sharing behind-the-scenes videos of her shoots and photography challenges, it's clear that Frank knows what she's talking about. So, Elite Daily spoke with her to get exclusive posing tips for your next TikTok video or Insta pic. Whether you're posing with your besties, your partner, or just trying to capture a good selfie for your feed, Frank is sharing all her best intel for how to pose for pictures.
If you've got big summer plans that include vacays and beach days, you definitely want to know the best angles and poses to capture the cutest snaps from all your adventures. Even if you're just hoping to show off your new summer 'fits, these 11 posing tips from Frank will elevate your feed to a new, pro level.