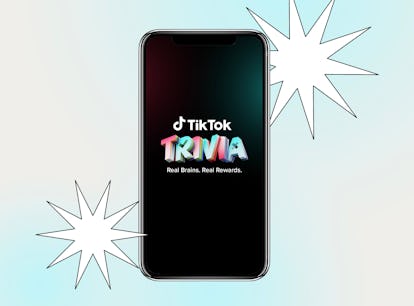 How To Play TikTok Trivia To Win Cash From A $500K Prize Pool
Raise your hand if you feel personally victimized by those TikTok Trivia notifications.
TikTok/Elite Daily
While scrolling on your FYP, you've likely seen a notification for TikTok Trivia. After all, it's hard not to miss when it's taking up a good chunk of your screen. You may even be tempted to swipe away or exit out, but ignoring the app's latest launch could mean you're missing out on a $500,000 prize pool. To make cash from TikTok, here's how to play TikTok Trivia starting Tuesday, Feb. 22.
TikTok Trivia is an interactive game that will take place on TikTok's official channel (@TikTok) from Feb. 22 to Feb. 26. Each day, you'll have the opportunity to answer trivia questions that will get you to the final round, where you can win a share of the prize pool. There will be eight shows in total, with two a day for the first three days and "Survival Rounds" that will take place on Feb. 25 and Feb. 26.
TikTok Trivia will seem very familiar to fans of HQ Trivia. The latter was a mobile trivia game that happened live and daily, which allowed contestants to win money from a giant prize pool. The company that owned HQ Trivia shut down in 2020, but the show has come back a few times since. However, it hasn't been as consistent as it once was at the height of HQ Trivia's fame, and it appears TikTok is looking to take over. Similar to how Instagram created Reels to compete with TikTok and TikTok released its TikTok Now feature — aka the TT version of BeReal — every app is just trying to be *the app* everyone turns to. Will TikTok Trivia become the new HQ Trivia? It's possible, but you'll first need to play to find out.
How To Play TikTok Trivia
In order to play TikTok Trivia, you have to tune in live. The shows will be happening twice a day Feb. 22 through Feb. 24 at 5 p.m. PT/8 p.m. ET and 6 p.m. PT/9 p.m. ET. Once you register for the games you want to play, you'll receive a notification prior to the show so you don't miss it. The first game of the day will have a $30,000 prize pool that winners will split, while the second game will have a $70,000 prize pool. Each game will be 12 questions long.
The final two rounds of TikTok Trivia are the Survival Rounds that are worth $100,000 each. Those games will be 40 questions each or until there are at least 500 remaining contestants to split the prize money. The Survival Rounds will take place at 5 p.m. PT/8 p.m. ET on Feb. 25 and Feb. 26. Since TikTok will keep these rounds going until at least 500 people, you're looking at possibly winning around $200 or more. The questions for each game will include a variety of topics, like lifestyle, sports, music, and beauty. (Little tidbit, it's possible some questions will involve the John Wick series since TikTok Trivia is being presented by both Lionsgate and John Wick: Chapter 4. Just saying.) Also, the questions for the final two games will get increasingly more difficult as you go, to really try and knock people out.
How Is TikTok Trivia Different From HQ Trivia?
Before it's even launched, users are comparing TikTok Trivia to HQ Trivia. They are both live game shows that give contestants a chance to win money from answering trivia questions. It's hard not to compare the two. HQ Trivia also had users answering 12 multiple choice questions, and if you survived all 12, you got to split that day's prize fund. The prizes ranged anywhere from $5 to $300,000, according to BBC.
Dylan Abruscato, who used to work for brand partnerships at HQ Trivia, said the only thing that appears to be different is that TikTok Trivia will be hosted by creators on the app. James Henry (@jameshenry) will be hosting this first round. You may recognize Henry as the guy who pops up on your FYP when "you've been scrolling for way too long now." Hopefully, this interaction with Henry will be a positive one that gets you some extra cash to spend.
How To Turn Off TikTok Trivia
TikTok Trivia may sound fun to those who miss their daily HQ Trivia games, but for anyone else, those notifications on your FYP are a nuisance at best. Some TikTokers have even shared LOL-worthy memes of what it's like dealing with the TikTok Trivia pop-ups and how difficult it is to exit out of them.
While some users claim you can get rid of the TikTok Trivia notifications by going into your settings and unregistering from the live event, that doesn't seem to be a real fix. Unfortunately, the only thing that will get the pop-ups to disappear right now is to exit out by clicking on the comically small "x" at the top right of the pop-up. You'll need to do this every time you open up the app, though. Luckily, TikTok Trivia is only scheduled until Feb. 26, so the notifications will likely disappear the day after.