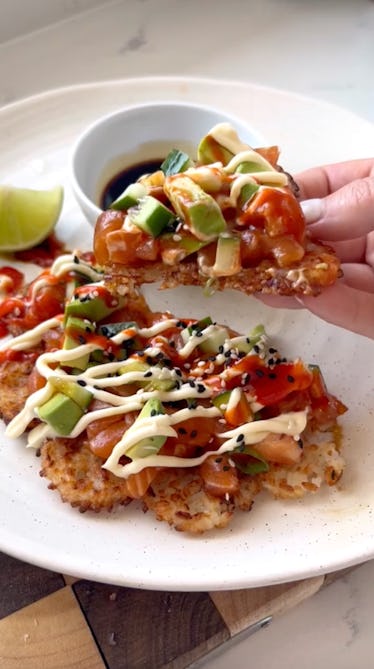 How To Make A Sushi Waffle From TikTok Inspired By Your Fave Roll
It's so easy to *maki* at home.
You really can't go wrong with sushi for dinner, especially when you have a bunch of different ingredients to choose from. However, making homemade sushi can be a little more difficult and time-consuming than just choosing a few rolls off the menu. While TikTok has an easy solution with a viral homemade sushi bake, you can take your meal one step further by learning how to make the sushi waffle recipe that's taking over your TikTok FYP.
When you hear sushi waffle, a couple of different images may be popping up in your head. Is it a sushi roll pressed into a waffle maker? Or, is it a regular waffle made with ingredients like salmon and avocado cooked in? Well, it's little bit of both. While the TikTok sushi waffle does utilize a waffle maker and various sushi ingredients to make it all come together, this recipe is more like a sushi waffle pizza. TikToker @victoriaminell demonstrates how to make this sushi-inspired dish that consists of a crispy rice waffle with salmon, avocado, cucumbers, soy sauce, mayo, and Sriracha on top. It's kind of a version of a Spicy Tuna Crispy Rice, except in waffle form, of course. While the final product is Insta-worthy and looks like something you'd find in a fancy restaurant, the sushi waffle recipe is actually very easy to follow at home.
How To Make TikTok's Sushi Waffle Recipe At Home
To begin, you first need to assemble your sushi essentials. This is where you can tweak the recipe a bit to make the sushi waffle of your dreams. For vegetarians, opt for an avocado roll-inspired waffle or a crispy tofu one. If you're hoping to have the most vibrant sushi waffle, you could even gather ingredients to make a rainbow roll waffle at home. However, if you're just looking to copy exactly what TikToker @victoriaminell does, you'll need to gather the following:
Sushi rice
Salmon
Avocado
Cucumbers
Soy sauce
Kewpie mayo
Sriracha
Furikake
Prepare your rice first, which should be sushi rice or rice seasoned with sushi vinegar. Once that is ready to go, place your rice into a waffle maker and cook until golden brown. This will make a crispy rice waffle that you'll use as the base. Plate your rice waffle and top with the salmon, chopped avocado, and chopped cucumbers. Drizzle on some soy sauce, Kewpie mayo, and Sriracha before sprinkling on your furikake. Then, you're ready to enjoy.
The options are endless on the sushi waffle train, but one easy iteration is to make a California roll version. For that, you'll want to add some imitation crab on top of your crispy waffle instead of salmon, or you could add some fried shrimp to make a shrimp tempura sushi waffle. With everything on top of the waffle, it kind of looks like a sushi version of Taco Bell's Mexican Pizza, which isn't a bad crossover. Again, you can really "waffle" pretty much anything, so after your sushi waffle, you could make a Taco Bell-inspired one. Just use your rice as a waffle again, and top off with ingredients like beans, cheese, and tomatoes.
Another way to make your sushi waffle more unique is use a waffle maker that cooks your waffle into a fun shape. With Valentine's Day around the corner, it's such a cute idea to use a heart-shaped waffle maker ($10, Target) to create sushi your partner will love a waffle lot or to show yourself some self-love.