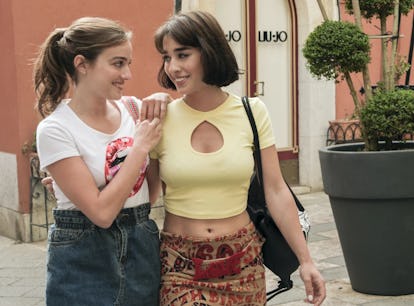 How To Enter Barilla's Love Getaway For A Free Trip To Italy
Don't forget to pack your main character energy.
Fabio Lovino/HBO
If you're still not over The White Lotus Season 2 finale, you can live your Italian vacation dreams IRL (sans murder plot) with Barilla. This Valentine's Day, the pasta brand is running a sweepstakes for hundreds of fans to win a Love Pasta Kit with heart-shaped pasta — but the grand prize is what you really want. One lucky winner will also get a nine-day trip to Italy for two. You can say ciao to your dream vacation in Florence and Parma when you know how to enter Barilla's Love Getaway sweepstakes for a free trip to Italy.
Before you start packing your best Daphne Sullivan-inspired 'fits, you have to put in a little work to enter the sweepstakes — the brand is giving one person a dream vacay, after all. Barilla wants to know how its pasta brings you closer to your loved ones. Whether you're a seasoned home cook or it's your first time cooking a meal for a loved one, Barilla wants to hear your story about how the tasty carbs kick off a girls' night or set the scene for the most romantic date night.
In return, the pasta company will send one pasta lover and a plus-one to Italy for all the pasta you could dream of. It might not be Daphne and Harper's Noto villa, but Barilla will cover airfare, hotels, and tours. To make sure you don't miss the chance to live out your White Lotus fantasies, submit your application by 11:59 p.m. ET on Feb. 1 to be entered in the sweepstakes.
Barilla Love Sweepstakes Prizes
You have a few chances to win, but obviously one prize is the star of the show.
First Place Prizes
Barilla has so much love to give — specifically gifting 459 winners their very own Barilla Love Pasta Kit (worth $32.50) which comes with a box of heart-shaped pasta, heart-shaped measuring spoons, two heart-shaped plates, a custom tea towel, recipes, and Valentine's Day cards, according to the official rules.
Grand Prize (A Free Trip To Italy)
The grand prize is a nine-day, eight-night trip for two to Florence and Parma in Italy. The dream vacation includes roundtrip flights from the United States to Florence, train tickets to and from Parma, hotel stays in both cities, up to three tours in Parma, $1,000 spending money (think of all the pasta and gelato you could buy), and a $3,500 check to offset taxes. The entire value of the trip adds up to around $12,532.50. Plus, you'll get to bring your go-to travel companion.
How To Enter Barilla's Italian Sweepstakes
Now that the prizes have gotten your attention, you're probably ready to submit an entry. Visit barillalove.com to enter your personal details and a short paragraph (250 words or less) about "how Barilla brings you closer to a loved one," according to the submission form. It could be anything from sharing a meal to cooking together.
Submit your entry, keep your fingers crossed, and have your Italy bucket list ready for when Barilla conducts a random drawing for the winner on Feb. 2. Yep, your story can be the best essay you've every written, but it'll all come down to luck. The winner must be able to travel within one year of receiving the winning notification or their trip will be forfeited.
Time for a White Lotus rewatch for all the Italian fashion inspo you'll ever need — except maybe Portia.