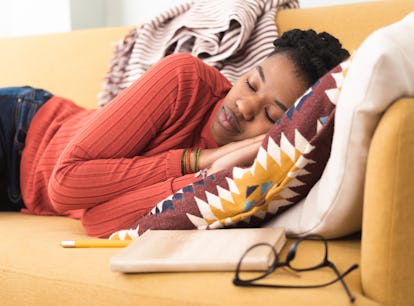 These 15 Home Products Will Help You Fall Asleep Faster For Under $25
No more sleepless nights? Yes, please.
RgStudio/E+/Getty Images
There's nothing worse than a terrible night's sleep. When you're tired, you can barely make it through the work day, even after your go-to cup of coffee. While a nap may help short term, what you really need are some home products that'll help you fall asleep faster and get you to sleep through the night.
Everyone knows they need about eight hours of sleep a night, but that can be difficult AF when you're unable to get comfy or too stressed and your mind is racing. Since your current bedroom sitch is not doing its job, you may need some home products that'll help improve your sleep quality. While getting a new mattress may not be in your current budget, there are actually plenty of items on Amazon for under $25 that are highly reviewed and are aimed at helping you sleep through the night.
Whether you need a better pillow or a cooling blanket to prevent you from overheating, here are 15 Amazon products under $25 that'll actually help you fall asleep as soon as you lay down.
We at Elite Daily only include products that have been independently selected by our editors. We may receive a portion of sales if you purchase a product through a link in this article.