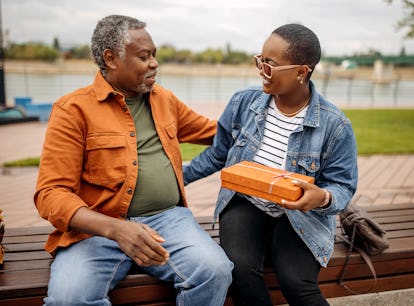 Say "Happy Birthday, Dad" With These Funny Instagram Captions
Have him laughing at your jokes for a change.
Pekic/E+/Getty Images
The has finally arrived and it's time to celebrate the most important man in your life: your dad. His birthday only comes around once per year, so it's extra important to tell him how much you love and appreciate him while also teasing him a little about getting older. Say happy birthday, dad with these Instagram captions that do all of the above and are perfect way to show him you care.
Maybe your dad is the sentimental type that loves a good quote. In that case, you'll want to post an Instagram carousel of photos of you two throughout the years, ending with a current pic. That alone will warm your dad's heart, but add in a sweet dad quote for a caption, and you'll have pretty much make his birthday. But if you're dad's more of a jokester, he'll love a goofy photo of the two of you with a funny dad quote or pun. You could even put up an inside dad joke that only the two of you know. That's sure to make his birthday that much sweeter.
Celebrating your dad's birthday is super important. After all, who else would you call in the middle of an emergency? Say "happy birthday, dad" with any of these Instagram captions that'll show him just how much you appreciate him.
"Dad, you're only as old as you feel. Party it up like you're 21!"
"Not all heroes wear capes."
"Happy birthday to my personal superhero."
"You're my greatest gift, Dad."
"The best dad deserves the best birthday. HBD!"
"Because not all superheroes wear capes."
"Everyone thinks their dad is the best, and everyone is wrong."
"Dads are most ordinary men turned by love into heroes, adventurers, story-tellers, and singers of song." — Pam Brown
"The most amazing and amusing human I know."
"Happy birthday to one of my favorite parents."
"Hope you have a great birthday, Dad. Just be home by 10."
"For your birthday, Dad, I'm giving you the day off from helping me with my problems. But just keep your phone on in case of an emergency."
"Thanks for always offering a shoulder to cry on and a bad joke to laugh at."
"Hope your special day is full of opportunities to tell bad jokes to waiters."
"He has always provided me a safe place to land and a hard place from which to launch." — Chelsea Clinton
"You can tell what was the best year of your father's life, because they seem to freeze that clothing style and ride it out." — Jerry Seinfeld
"Dad, you're one in a million, and you're all mine."
"I finally checked the oil in my car. Happy birthday!"
"Worst jokes. Best dad."
"In honor of your birthday, I promise to laugh at all of your jokes."
Thanks for always acting like a kid when I was a kid, acting like a friend when I needed a friend, and acting like a parent when I need one. Happy birthday."
"Dad, save some cake for me."
"If I didn't have you as a dad, I'd want you as a friend."
"Happy birthday, old man. I love you."
"Dad is, and always will be, my living, breathing superhero." — Bindi Irwin