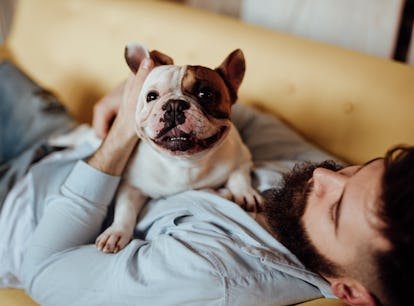 36 Father's Day Captions For Dog Dads You Love Furry Much
Paws what you're doing and relax.
Anchiy/Getty Images
Father's Day isn't just for dads of humans, but dog dads as well. A fur baby needs just as much love and support as you do, so celebrate your dad or the father figure in your life who has a pup they love. Post some cute photos of them together on the 'Gram with Father's Day captions for dog dads. You could even celebrate your partner, because if they've got a dog, they're a dog dad, too.
Luckily for you, knowing how much they love their pup makes shopping for Father's Day so simple. Some great ideas include getting them a super cute mug with their dog's face on it ($11, Chewy) or new tennis balls for throwing around in the park together. If you wanted to plan a cute Father's Day celebration with the dog dad theme, pack a picnic for both your dad and their dog to enjoy in the backyard. It'll be unfurgettable, but you can't forget the traditional Father's Day Instagram post. It's a must-do to show off how much you care about your dad or SO on their big day.
Since you're highlighting how pawsome they are with not only you but their four-legged bestie, you might as well use a cute or punny Instagram caption all about being a dog dad. It'll fit the theme of the day and take the pressure off of you from coming up with something on your own.
"Happy Pawther's Day to the best dog dad I know."
"To the most pawsome dad I know."
"We love you furry much!"
"I've got one unfurgettable dad."
"You taught me that anything is paw-sible."
"Life would be ruff without you, Dad."
"Spending time with you on Father's Day is the leashed I can do."
"Dad, this pic of you deserves to be on Vanity Fur."
"You're not just a dad, you're a dog dad."
"My dad really is living that pug life."
"If someone asked me who my favorite person is, without paws, I'd say you."
"It's OK you treat the dog better than me. I still love you."
"You'll always be my favorite paw."
"Howl you doing, Dad?"
"The dog and I will always woof you."
"Make sure you collie your dad today."
"The corg-key to my dad's heart is his dog."
"I will paw-lways love you."
"Cheers to the world's best dog dad."
"This is the #1 (dog) dad."
"Here's the leader of our pack."
"Paws down, you're the best dog dad ever."
"Happy Fur-ther's Day to the dog's favorite human."
"Happy Father's Day to the dogfather."
"Dad, you'll always be my favorite person to go on a walk with too."
"Dad, I hope today you treat yourself as much as you treat the dog."
"Happy Father's Day to the person who makes me howl with laughter the most."
"I have the most pawfect dog dad."
"Paws what you're doing and relax. Today is your day."
"Today's got the pet-tential to be the best Father's Day ever."
"The whole family is mutts about you."
"Let's paw-ty, because it's Father's Day!"
"Fact: I've got the most howlarious dog dad."
"I Shih Tzu not, my dad is the best dog dad in the world."
"You'll always be dad to the bone."
"Dad, the dog and I can never repay you. Literally. The dog won't get a job."