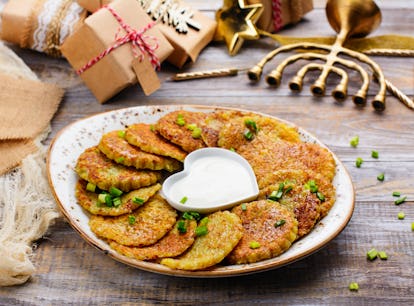 10 Hanukkah Recipes On TikTok That Are Challah Easy To Make
Even the beef brisket is a breeze.
Shutterstock
The holiday season has arrived, and Hanukkah 2022 is already in full swing. While the festival of lights is all about those multi-course meals with friends and family, that doesn't mean you have to spend all eight days in the kitchen, thanks to all the recipe hacks that are trending on TikTok. For a delicious, yet simple feast, you'll want to check out some of these quick Hanukkah recipes on TikTok that are trending.
The great thing about recipes on TikTok is that they tend to be on the simpler side, thanks to some great tips and hacks. That said, sometimes simple is better, and a lot of TikTokers have figured out the secret to simplifying popular Hanukkah dishes without compromising on taste. For example, you know a potato latke recipe on TikTok is going to be amazing when you watch the fresh herbs being mixed in and the quick-and-easy frying process happening right on your screen. And freshly baked challah? Delicious. The creativity behind TikTok recipes and cooking hacks you didn't know you needed is truly endless. So, instead of hours upon hours of scrolling on the app, browse through this comprehensive list of the easiest Hanukkah recipes of the season.
When it comes down to it, Hanukkah is all about enjoying the people you love, and if cutting down on cooking time gives you more time to be with your family, then go for it. Plus, you'll still want to impress your guests with a flavorful, delicious recipe. Besides, these quick Hanukkah recipes on TikTok are so tasty that no one will know that you whipped them up in half the time.
This article was originally published on