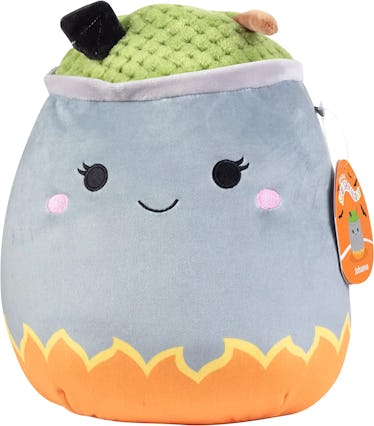 This Halloween Squishmallow Is A Literal Witch's Brew — And She's Too Cute
You can also *be* a Squishmallow with this new costume.
Halloween will be here before you know it, and between the return of the viral 12-foot skeleton at Home Depot and Target's lineup of hundreds of new Halloween decorations, there's no shortage of spooky decorations to choose from. But if you need a break from the scary stuff, the new Halloween 2022 Squishmallows collection features an adorable wearable Halloween costume (if you want to venture into youth sizes LOL), new plush pails, and a brand new plush named Johanna. You can also grab some returning Squishmallows if you didn't get your hands on them last year. Here are all the details on the new and OG plushes.
It's never too early to get a head start on your Halloween costume prep. Lucky for you, Jazwares' newest collection of Halloween Squishmallows, which launched on the Squishmallows website on Sept. 8, features a fluffy Cam The Cat Character Vest that makes transforming into your favorite plushy super simple — and might even guarantee a win for Best Costume at your next Halloween party, TBH. To complete the look, you can also pair your costume with an equally adorable Squishmallows Treat Pail for your Halloween candy, or use it to carry around all your spooky season needs. For the purists, there is a new 10-inch plush who is designed as a literal batch of witch's brew, but don't worry, I don't think Johanna is here to cause toil and trouble.
Time to get shopping — the lineup of Halloween-themed Squishmallows costumes and treat pails are available on the Squishmallows website. You also might be able to find the plushes in-store at your usual Squishmallows retailers, Like Walmart and Walgreens, though it's unclear which retailers are currently carrying the collection.
We may receive a portion of sales if you purchase a product through a link in this article.
Squishmallows Halloween Costume
OK, this is technically for kids, but if your fandom runs deep, you might be able pass in one of the larger sizes. Anything for Cam the Cat, right?
Cam The Cat Character Vest
Squishmallows Halloween Treat Pails
Your Squishmallows will serve double duty this spooky season when you store your essentials in the new 12-inch plush pails.
Cam the Cat Treat Pail
Emily the Bat Treat Pail
Fifi the Fox Treat Pail
Holly the Owl Treat Pail
Stump the Skeleton Cat Treat Pail
Squishmallows Halloween Plushes
New For 2022
Johanna
Returning Halloween Squishmallows
Nightmare Before Christmas Mayor
Reginald the Corgi Devil Dog
With only on new plush (that's not a pail or a costume) as of Sept. 16, you might want to keep an eye out for any other releases as October nears. But don't sleep on Johanna, because you're gonna need some witch's brew this season.