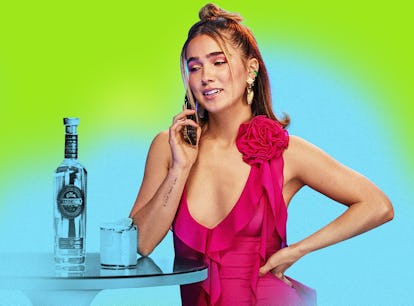 Haley Lu Richardson's White Lotus-Themed Cocktail Is "Fancy"
Plus, she reveals what she really thinks of Portia's fashion sense.
Sonali Ohrie/Lais Borges/Elite Daily
Just like her character in The White Lotus Season 2, Haley Lu Richardson has major phone issues. However, unlike Portia, Richardson hopes to enter her healthy screen-time habits era. "I go through phases where I'll just wake up and go directly to my phone," Richardson tells Elite Daily. "Finally, last month, I said, 'Enough is enough.'" The 28-year-old recently teamed up with Jose Cuervo for a campaign about living in the moment.
"It's really easy to get sucked into social media, have absolutely no awareness, and just lose your life," Richardson says. "I really don't want that for myself." Her current obsession is Instagram, which she often uses to share BTS pics of whatever TV show or movie she's currently working on, like her next project: Netflix's adaptation of The Statistical Probability of Love at First Sight.
However, Richardson is attempting (and encouraging her fans) to go off social media by using a "dumbphone" — aka a flip phone — instead. In addition to helping limit screen time, flip phones are a 2000s-era trend that's made a Gen Z comeback, much like Portia's Y2K style. Richardson's White Lotus character's fashion sense had fans divided all season long, but she's ready to defend a few outfit choices Portia made.
Below, Richardson opens up about her current celebrity crushes, what her phone habits are like, and the one accessory White Lotus fans ripped apart that actually came from her own closet.
This interview has been edited and condensed for clarity.
Elite Daily: You're collaborating with Cuervo for its "Go Off this Cinco" campaign. With warm weather finally here, what's your go-to summer drink?
Haley Lu Richardson: I love a year-round drink, but for summer, I like something fruity, but not too sweet. I really love something with grapefruit, like a paloma. I normally ask for no simple syrup or added sugar. I like the taste of good tequila and fruit.
I also like a pineapple margarita. Pineapple is naturally so sweet, and with tequila — let me tell you — that's a good beverage.
ED: What do you think would go into a White Lotus-themed cocktail?
HLR: It'd probably be something fancy. This is kind of an interesting combination, but maybe you could make some version of a tequila spritz with Sicilian orange.
ED: What does your ideal night out with friends in the summer look like?
HLR: Honestly, I'm not really trying to go out to a club or a bar. I would love to just spend the day at the beach, just like swimming, being in the sun, laughing, and talking about boys. Then, we come home to one of our houses and listen to loud music, cook, do crafts, and maybe get a little tipsy.
ED: Speaking of boys, do you have any current celebrity crushes?
HLR: The Jonas Brothers are my celebrity crush forever.
ED: And you were just in their music video for "Wings."
HLR: I will never forget that. That's for sure. That was the best thing I've ever done in my entire life and probably will ever do.
ED: Cuervo's campaign encourages people to get off their phones. What are your current phone habits like?
HLR: For the past two and a half days, I've deleted the Instagram app on my phone. I really got in a trap on there last month, so I'm trying to be intentional or somewhat aware of my usage. I also just did that thing on your iPhone where it blocks you or counts your screen time. It's amazing but terrifying because it's an awful, gut-wrenching feeling to see at 11 a.m. that you only have five minutes left of Instagram screen time.
ED: Do you have any hacks at all for staying present and not looking at your phone when you're out with your friends?
HLR: The one thing I am good at, and have always been good at, is being present when I'm hanging out with people. I'm the kind of person who, if I spend a whole day with friends, will maybe look at my phone once, and it's probably to play music or text my mom.
If we're going to the beach, going on a hike, or at lunch, I don't even bring my phone or my phone's just in the bottom of my purse. Also, I sleep with my phone on airplane mode. Sometimes, I put it on airplane mode when I'm hanging out with people so I can't be bothered.
ED: That's smart. On the topic of flip phones, are there any other Y2K fashion and accessory trends that you wish would make a comeback?
HLR: I'm really excited about a bunch of the Y2K stuff that's come back already, but there's also stuff I was excited about that never fully hit. Do you remember the trend where the undershirt was already sewn into a vest? I have this zebra print one like that. My friends that were with me when I bought it were horrified, but I was like, "Just you watch, this is going to be cool again." And then that never actually happened.
I am ready for the super low-waisted stuff to stop because I just can't with that. I've tried, but I can't go out in public like that.
ED: Speaking of fashion, your character Portia in The White Lotus' fashion sense had fans divided. What do you think of Portia's style?
HLR: It was definitely very polarizing. People had extremely strong reactions to Portia in every way, but I stand by what we did with Portia. It was all intentional — I really get into a character I'm playing, figuring them out just as a person, like their emotions and reasons for being and saying all these things. But I also think about the external factors of how they dress, the makeup they wear, and the choices they make in that world. It really informs me and the audience watching to be like, "Oh, wow, that's who that girl is." I think that's what happened with Portia, for better or worse.
All these characters on the show really represent, without being stereotypical, a very specific person and time in society. The clothes that Portia wears and how she wears them are very much a reflection of who she is. I'm proud of it.
ED: Do you have a favorite outfit of hers from the season?
HLR: I really love the outfit at the beach club with the crochet long sleeve and the white Bermuda shorts. I think that a lot of Portia's outfits are just very distinctly her, but that outfit and the outfit that we meet her in when they arrive in the first episode with the blond sweater vest — I just think that those are so perfect for her.
ED: Were any of the pieces in those outfits yours? I know that you wear some of your own clothes.
HLR: I did say that in one interview, and then everyone really ran with it. They decided to say that all of the clothes were mine and I dressed identically to Portia. It isn't not true, I'll say that.
There were a couple of things, like the cutoff Levi's jean shorts that I wore a couple of times, that are actually mine. It's really hard to find vintage Levi's that fit well, so I wore those. Then, the bucket hat was mine. When that one got sh*t on, I did get a little bit sad because I made that with my own two hands.
ED: Who do you think had the best fashion sense in the last season of The White Lotus?
HLR: Honestly, Lucia is pretty hot, but also I think she just is the type of person who looks good in everything. Oh, and the gays. They always looked wondrous and ready to go.