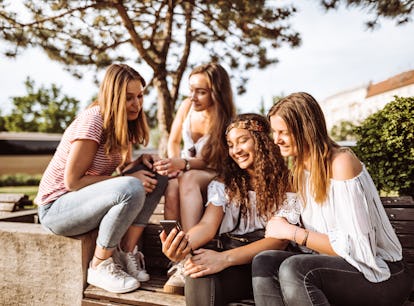 90 Group Chat Names For Your Pledge Class You'll Be Omega Fan Of
Keepin' it classy with the right name.
franckreporter/E+/Getty Images
When Bid Day finally rolls around, you're not only joining a sorority house, but also gaining a bunch of new sisters. While going through initiation, you and your fellow pledge class members have gotten so much closer to each other. You may even have a group chat going on to keep everyone in the know as you make plans for the year. Since your convos are anything but basic, you'll need some creative group chat names for your pledge class to update your thread.
By now, you know that every group chat you have on your phone needs a unique name. Not only does it help to keep the convo organized, but the right name can also really set the tone. When picking out a sorority group chat name, you've got to find one that matches your tribe's vibe. For instance, if you and your fellow sisters are already starting to make inside jokes, you'll want a funny group chat name that will make you LOL every time you get a notification. On the flip side, a sweet sorority chat name might be more your style if you already feel such a strong connection to your fellow sisters.
The process of choosing a group chat name that works for you can be a fun bounding experience, so send your sisters this list of 90 pledge class group chat names to decide on. Once you have a solid chat going, you'll feel more comfortable sharing sorority secrets and spilling sorori-tea with each other.
Sisters For Life
Sister Act
Pledge Class Is In Session
Sorori-tea Time
House It Going?
Hey Soul Sisters
My Nu Sisters
You Can't Sit With Us — Mean Girls
It's All Greek To Us
Sorori-terrific
Omega Fan Of My Pledge Class
Sister Squad
Mermaid To Be Sisters
Home Sweet Home
Sisterhood Of The Traveling Texts
Rushing Into Sisterhood
Campus Cuties
Beta Than Any Other Class
What A Rush
Nacho Average Sisters
We're Feeling Phi-ne
We've Got Class
Pledge Classy
Mu Fave Sisters
The Heathers On Campus
With Mu People
Phi Love My Pledge Class
Living In The Mu-ment
Kappa Diem
The Chamber Of Secrets
Orange You Glad To Be My Sisters
Beta-ful Pledge Class
Phi Love Mu Class
A Bunch Of Littles
Shrimply The Best Class
Sister Bonding Time
Life Of Phi
Best Fries Forever
Instant Besties
Keeping Up With The Pledge Class
Pledge Classy And Sassy
Sisters With Class
Keep It Pledge Classy
Modern Family
Nonstop Notifications
Phi Love You
Beta Got Back
Over The MUn
We Need A Kappa-ccino
Kind Of A Big Dill
Gouda Pledge Class
Turtle-y Awesome Pledge Class
Egg-cited Sisters
Party Thyme
My Sistars!
Purrfect Sisters
Sisters By Heart
Berry Good Pledge Class
Love A Latte
Words Cannot Espresso
OOTD Dump
Doughnut Worry About Initiation
Feeling A Bit Rushed
A Pizza My Heart
Grape Pear Of Sisters
Snaps For Us
On Wednesdays We Wear Our Letters
Let's Get Little
How Sweet It Is To Be Greek
Screenshots Or It Didn't Happen
One In A Watermelon
The Golden Girls
Full House
The Dream Team
Sisterly Love
You Can't Text With Us
The Chosen Ones
We Grow Together
We Went Greek
Sis Code
We're All In This Together — High School Musical
Tall Class Of Water
The Sorority Meme Team
Campus Quad Squad
This Class is A+
The Proud Family
Pledge Class Circle
Lava My Pledge Class
My Chosen Family
Sisters With Something To Say