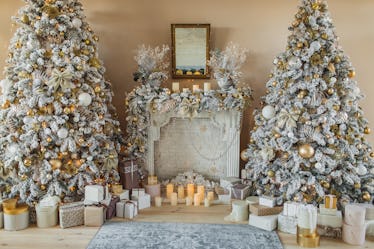 White & Gold Christmas Trees For 2022 Are Trending, Experts Say
Even Kim Kardashian is in on the luxe look.
Anastasiia Krivenok/Moment/Getty Images
With Thanksgiving officially in the rearview mirror, almost everyone can agree it's time to deck the halls. While you can always start small with some stockings on your mantel or a wreath on your front door, it doesn't truly feel like Christmas until you've got your tree put up. For an Insta-worthy home for the holidays, experts and TikTokers agree that white and gold Christmas trees for holiday 2022 are the way to go.
Of course, you may have Christmas traditions that include decorating your tree the same way each year, but to spruce things up, you might want to trade in your festive green tree for a white and gold one. It's the luxe aesthetic that is as bougie as Kim Kardashian's Christmas trees. On the flip side, if you're keeping it budget-friendly with the same tree you've had since you were little, you can turn to your FYP for how to decorate your Christmas tree in a trendy new way. That could mean going to the store to pick up some ornaments and ribbon to make your green tree look white and gold.
Elite Daily spoke exclusively with Mandi Clark, the Director of Trend & Design at Michaels, who shared some tips on how to achieve the "two notable versions" of white Christmas trees that are trending this year — because they couldn't be more different. "The first aims to create a post-worthy glamour moment and the next is a soft connection to nature," according to Clark. With Clark's style tips and inspo from TikTok on how to decorate a white Christmas tree with golden accents, you'll be feeling the spirit of the season in no time.
Expert Sources Cited:
Mandi Clark, Director of Trend & Design at Michaels