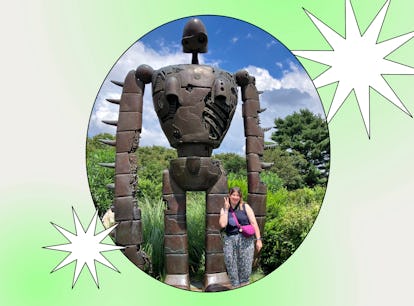 I Went To Tokyo's Ghibli Museum For Spirited Away Fans
Plus, where to find the best My Neighbor Totoro treats and photo ops.
Anime fans or anyone who grew up with My Neighbor Totoro as one of their comfort films has likely heard of the Ghibli Museum in Tokyo. It was on my bucket list and a place I really want to visit during my first trip to Japan, but there's not much known about what's inside the Ghibli Museum. Since they don't allow photos or videos in the building, it's a bit of a mystery. It kind of makes you wonder if the Ghibli Museum is worth going to during your trip to Tokyo.
If you're scrolling the "Ghibli Museum" search on TikTok, you may see a mixed bag of reviews. After going to the Ghibli Museum, I can understand both arguments, but ultimately, I think it's worth visiting. The museum, which is located in Mitaka's Inokashira Park, has special exhibits, a theater, an exclusive store, a rooftop garden, and a cafe. However, it's a fairly small building, and it didn't take me more than three hours to explore, eat, and shop my way around. It's not a full day activity, which is why I think it's worth it, especially if you're a big fan of Studio Ghibli and Hayao Miyazaki.
My favorite areas of the museum are some of the ones you can actually see on TikTok, like the rooftop garden, which looks like something out of Castle in the Sky. You'll even find the giant robot from the movie up there, right after you climb the spiral staircase. I also really enjoyed the Ghibli Museum Cafe, even if the food wasn't overly themed to any of the films. They had some sandwiches, a hot dog, desserts, and drinks. I got the katsu sandwich, pineapple soda, and chocolate and peanut butter cake, which were all delicious. The only indication that they came from the Ghibli Museum was a Ponyo flag placed in my sandwich. Since it was hot out, my mom and I also got some honey and lemon soft serve — which was more like sherbet than ice cream, but just as tasty and refreshing.
The exhibits were small, with the main gallery showing how a Studio Ghibli film is made through different stages like concept art, backgrounds, and paint. The special exhibition currently at the museum is based on the TV series Future Boy Conan, and includes additional artwork from the show, storyboards, and models. Overall, I found the inside of the museum to not be any different than something I've seen in the Hayao Miyazaki exhibit at the Academy Museum in Los Angeles. At that limited-time exhibit in California, which also didn't allow photos or videos inside, there was maybe even more artwork and stills on display from movies like Howl's Moving Castle and Spirited Away.
So, if you're looking for tons of never-before-seen Ghibli artwork to admire, you may be disappointed. Other highlights for me included the stained glass windows featuring Totoro, the bathroom with pastry wallpaper, and the museum store, which had tons of exclusive Studio Ghibli merch. I picked up a Totoro ring, and some Ghibli chopsticks for my friends. The overall vibe was chill, like watching a Studio Ghibli film on a Sunday afternoon. However, getting tickets was a whole other experience.
It's Tough To Get Ghibli Museum Tickets Unless You Plan In Advance
Like most things you want to do in Japan, the Ghibli Museum requires a reservation, and tickets sell out quickly. I had to set an alarm to buy tickets as soon as they became available. Tickets go on sale at 10 a.m. Tokyo time on the 10th day of each month for the following month, so I had to go online at 6 p.m. PST on July 9 in order to get tickets for my date at the end of August. While the timing was confusing, tickets weren't expensive at all — about $7 for each adult.
Once you get to the calendar for the month you'd like to book, just select which time slot you'd prefer and purchase your tickets. I chose 10 a.m. since I wanted to spend the rest of the day in Tokyo after checking out the museum. The other times available are 12 p.m., 2 p.m., and 4 p.m. If you don't get your tickets as soon as they become available to book, you'll likely miss out, and no tickets are available for purchase at the museum.
The Differences Between Ghibli Museum Vs. Ghibli Theme Park Are Major
Many of my friends who saw me posting pics from the rooftop garden of the Ghibli Museum thought I was at Ghibli Park. The Studio Ghibli theme park, which opened in November 2022, is actually located in Nagakute City. It's about four hours away from Tokyo if you take the train, so it would be way more of a commitment for anyone staying in the city. In fact, it would take longer to get to Ghibli Park than it did to get to Kyoto from Tokyo for a day trip.
Ghibli Park is also a different experience, but it's not a theme park like Disneyland. There aren't Totoro rides and Howl's Moving Castle rollercoasters. Instead, Ghibli Park is more of an immersive experience that puts you into the world of some of your favorite Ghibli movies. Only the first phase of the park is open right now, which includes Ghibli's Grand Warehouse, the Hill of Youth, and Dondoko Forest. The warehouse has tons of photo ops and recreations that look like movie sets from the animated films.
The Hill of Youth has recreations from Whisper of the Heart and The Cat Returns. Dondoko Forest is perfect for My Neighbor Totoro fans, because it has a life-size recreation of Satsuki and Mei's house from the film. As the park is still under construction, there isn't much to see. Plus, it's not a traditional amusement park, so I didn't think it was worth it for my most recent trip to Japan. However, I may consider carving out a full day to see it next time I travel there.
Overall, there are major differences between the Ghibli Museum and Ghibli Park. I would say the museum immerses you into the behind-the-scenes world of Studio Ghibli with exhibits and artwork, while Ghibli Park puts you into the world of the films through sets and Insta-worthy photo ops. Both are worth it for huge Ghibli fans, but Ghibli Museum is better for casual fans and people who want to do as much as they can while in Japan.
Finish Out The Day With Other Ghibli Locations To Visit In Tokyo
The museum won't take you all day to see, so if you'd like to plan more Studio Ghibli activities for yourself, I have a few other recommendations of places to see. While you may have shopped at the museum, I would also recommend a visit to one of the Studio Ghibli stores throughout Tokyo. The Ghibli Store located near Tokyo Skytree has tons of merch from Kiki's Delivery Service and Spirited Away. Plus, My Neighbor Totoro fans will find cute plushies of their fave characters, along with some Totoro photo ops as well.
Another Totoro spot to visit is Shiro-Hige's Cream Puff Factory. This hidden gem cafe in Setagaya City has adorable Totoro cream puffs on the menu. This is the only cafe that's allowed to serve Totoro cream puffs since it's owned by Miyazaki's sister-in-law, and they really are almost too cute to eat. When my mom and I visited, we got one mango cream puff and one blueberry yogurt cream puff. The flavors change with the season, and you'll want to go early since the popular ones tend to sell out.
There is also limited seating, so you may have to wait a bit. You could also order some cream puffs to-go from the bakery downstairs, which also sells Totoro cookie sets to enjoy or give as a gift. This place was a true highlight of my trip to Japan, and I'm still thinking about both the cream puff and matcha brownie I ordered. So, if you missed out on getting tickets to the Ghibli Museum, be sure to at least add Shiro-Hige's Cream Puff Factory to your itinerary. It will not disappoint.