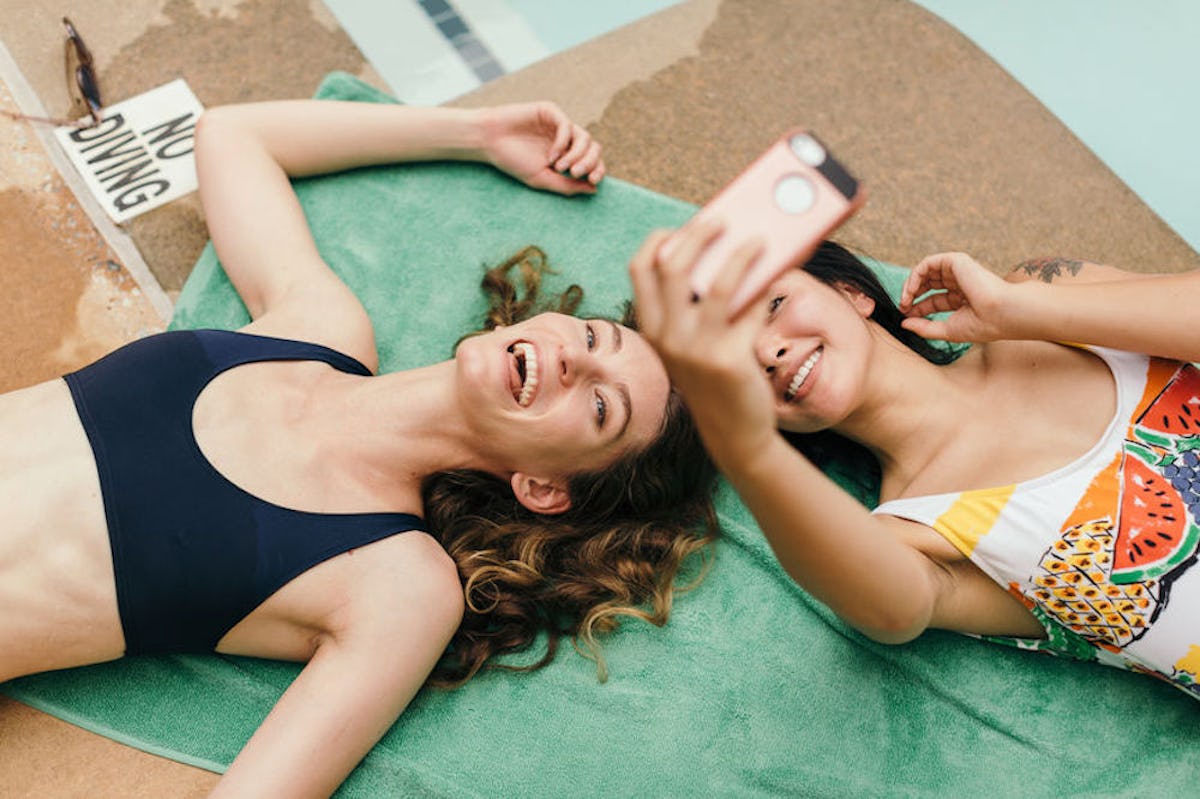 36 Funny Captions For Your Sister's Birthday, When A Queen Was Born
For as long as you can remember, your sister has been your best friend. She's been the one you go to when you need to eat some ice cream and talk about your feelings, and the person in your life who's always down for an adventure. Any moment of the day or night, you could text her and say, "Hey, I have an idea," and she'd be all in. This year, on her birthday, you just want to make her smile and feel so loved. That's why you need one of these funny Instagram captions for your sister's birthday, and the celebratory posts to come.
In the past, you've celebrated your sister on social media with a throwback picture that shows how much you've both grown. You've tapped the "share" button on faded photos of you two chasing after the ice cream truck in your neighborhood, and ordering popsicles shaped like SpongeBob SquarePants. The following year, you might have created a cute collage for your Instagram story of your sister's softball games, talent shows, or science fairs where she totally shined. For those events, you were always sitting on the sidelines, cheering her on and being the *most* supportive sibling.
This birthday will be no different. While you and your sister may have arguments over who is the real owner of that oversized sweatshirt, who gets to use the car on a Friday night, or what kind of takeout you should order, you're still her No. 1 fan. You want to make her smile, giggle, and feel every amazing emotion in between on her day. These sister birthday captions will do the trick.
"I was told there would be cake."
"Hope your birthday is a piece of cake."
"Your birthday is becoming a serious fire hazard."
"Wishing you a day as unforgettable as I am."
"Ladies and gentlemen, my sister."
"You don't get older, you level up."
"That my best friend, she a real bad b*tch." — Saweetie, "Best Friend (feat. Doja Cat)"
"Great news! I didn't need Facebook to remind me it's your birthday."
"I forgive you for being younger than me."
"It's sherbet day."
"You've been sassy since birth."
"Thanks for joining in on my weirdness."
"On this day, a queen was born."
"I'm sending your selfie to NASA, because you're a star."
"Tell me it's your sister's birthday, without telling me it's your sister's birthday."
"I know this is cheesy, but I hope you have a really gouda birthday."
"Free cake! I mean, happy birthday."
"I'm just so glad you exist." — Dan + Shay, "Glad You Exist"
"Here's to another year of borrowing your clothes."
"She's not old. She's vintage."
"Don't ever change, sis."
"It's your birthday? Aww, love that journey for you."
"The one where it's your birthday."
"You've taught me every TikTok dance I know."
"Turns out, I like you more than I originally planned."
"I may need to borrow your present at some point."
"Today's birthday agenda: recreating this pic."
"Big birthday energy."
"It's all about the middle child today."
"Who let my sister grow up?"
"Another year where you've spent almost every day with me."
"Age complete. Next level starts now."
"When it comes to sisters, you really lucked out."
"Surprise! It's an Instagram post for your birthday."
"Good vibes run in the family."
"Let me be the first to say, happy birthday."