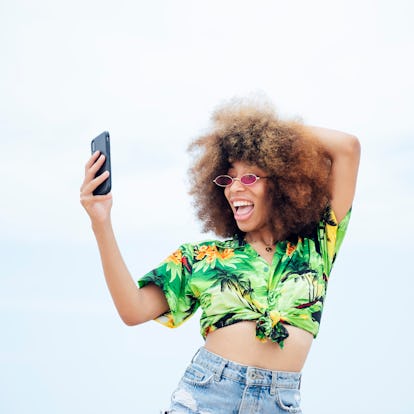 8 Of The Funniest Reverse Shapeshifting TikToks
When TikTok releases a new effect, it's not long before almost everyone on your "For You" page is trying it out for themselves. One of the newest ones is the reverse shapeshifting effect, which takes an image on your phone and morphs it into your face. So, if you use a photograph of your family or a cast of your fave TV show, it'll determine who you supposedly look like the most. However, as with the original shapeshifting effect, sometimes it doesn't work out the way you expect, and that's how you stumble across the funniest reverse shapeshifting TikToks on your feed.
There are a few trends going around that use the reverse shapeshifting effect. One of the most popular is people determining whether their Bitmoji character looks like them. Other TikTokers are using the filter to show a baby picture of themselves that morphs into what their face looks like now. The results are either super cute or totally LOL-worthy. It's the funny ones that you want to share immediately with your besties for a good laugh, though. If you're looking for some of the best, these eight reverse shapeshifting TikToks are ones you'll want to send to your group chat ASAP. They may even inspire you to make your own silly TikTok as well.