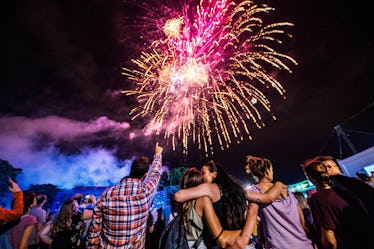 35 Captions For Fourth Of July Fireworks That Are Set To Sparkle
Light up your Insta feed.
skynesher/E+/Getty Images
Let's get real here: coming up with a captivating Instagram caption is a struggle at times, especially on holidays. As silly as it may sound, it can be tricky to make your post stand out among the (literal) thousands of other feeds that are just as ~aesthetically pleasing~ as your own. And with Independence Day right around the corner, non-clichéd, clever Instagram captions for Fourth of July fireworks can be difficult to come by.
On July 4, your feed will most likely be overflowing with red, white, and blue photos — from backyard BBQs, bonfires, beach outings, pool parties, ice cream cones, and lots more. But don't fret — since the day will be jam-packed with fun festivities, there are a ton of opportunities to score that perfect 'Gram, even when you're on-the-go running from activity to activity. From a Boomerang of the fireworks sparkling over the lake to a scenic view of the ocean while lounging on the beach with your besties, the (photo) possibilities are truly endless. Even a selfie of you and your partner munching on burgers is Insta-worthy and requires some Fourth of July Instagram captions.
Although we all have different traditions for the day itself, there is one that many of us partake in year after year: The quintessential fireworks display that concludes your Fourth of July festivities. By the way, you're never too old to get fascinated by fireworks — just an FYI.
As you wrap up your Independence Day, you'll want to make sure to save the best for last — and that's true when it comes to photos and fireworks captions alike. So, bring on the hot dogs, the beer, and the ice cream, and let's get snapping away.
When it comes to fireworks captions for photos, we all have different tastes and preferences, but we can likely all agree that we strive for creating an interesting feed for our followers. (Seriously though, am I an Instagram influencer yet?) Whether you prefer funny and witty puns or short and sweet ones that are a bit more understated, there are tons of Fourth of July fireworks captions out there to express your feels this holiday. Keep scrolling to check out the ultimate list of captions for your Fourth of July fireworks photos, and happy 'Gramming.
This article was originally published on