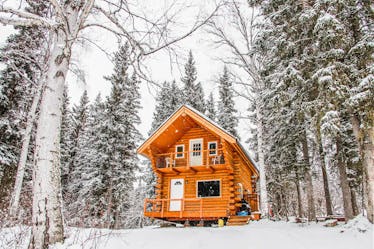 10 Festive Airbnbs Featuring Christmas Trees, Northern Lights, And Reindeer
Rein in the holidays with your deer friends and family.
Airbnb
There's no denying the holiday season really is the most wonderful time of the year. There's something so magical about the music, Christmas trees, and fairy lights. The season is also filled with tons of nostalgia as you reflect on childhood memories while surrounded by friends and family. If you could describe it in one sentence, this time of the year would be the equivalent of wrapping yourself up in a blanket while sipping on hot cocoa by the fire. While the countdown to Christmas has just begun, you can get into the holiday spirit right now by visiting some of the coziest Airbnb rentals in the world.
This year's holiday festivities are sure to be better than ever now that the Centers for Disease Control and Prevention (CDC) states that it's safer for fully vaccinated people to travel home for the holidays. You can make the holidays with your loved ones even more special by booking a christmas cabin Airbnb, like a farmhouse in the woods or an igloo up north. You could also book a cozy retreat to one of the best Christmas Airbnbs for you and your partner to enjoy before all the stress of holiday shopping and planning really begins. Meanwhile, a weekend getaway to a Christmas Airbnb may also be just what you and your friends want to do as one last hurrah before you travel home for the holidays.
Since it'll be cold outside, you can spend your days watching holiday movies like Elf or Home Alone while making festive snacks like Christmas cookies and peppermint bark. At some of these Christmas Airbnbs, you can even make snowmen outside, have a snowball fight, or find a rink nearby to go ice skating together. Whatever gets you into the holiday spirit, you'll be able to find at any of the best Airbnbs for Christmas. You just need to know which rentals will provide a truly one-of-a-kind experience you'll remember forever. From historic cottages to dreamy igloos, these 10 Airbnb Christmas stays will surely bring out your holly jolly spirit.
The CDC recommends traveling only after you're fully vaccinated and your vaccine has become fully effective. If you're not fully vaccinated and must travel, check the CDC guidelines before you book. Check your destination's vaccination and testing requirements before you depart.
This article was originally published on